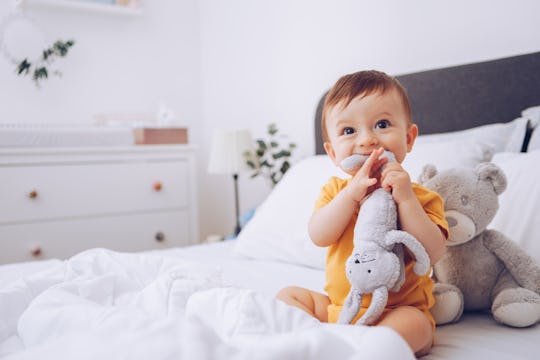 Shutterstock
5 Sweet Things That Happen When Your Baby's Lovey Has Your Scent On It
From stuffed bears and bunnies to baby-sized blankets that toddlers drag around relentlessly, if your child is attached to it in some way, it qualifies as a lovey. While kids can definitely develop attachments to loveys, there are some incredible things that happen when getting baby attached to a lovey with mom's scent on it. Loveys may come in all shapes and sizes, but a mom's scent is unique to her, giving a lovey that mom has slept with or wrapped her shirt around a special connection for a child.
When a baby is born, they can't yet make sense of what they see and hear, so they rely heavily on taste and scent. "Newborn babies have a strong oral impulse — that is, the impulse to feed — which is driven by their instinct to suck. This instinct is related to a sense of smell and taste. In utero, they are surrounded by amniotic fluid, and there is some evidence that babies taste and smell their mother's amniotic fluid. As such, by the time they were born, there is reason to believe that they may even recognize, to some degree, their mother's scent," Dr. Michael Mintz, a psychologist with Children's National Hospital tells Romper.
A baby's ability to recognize their mom's scent is what helps these five incredible things happen when a lovey has mom's scent. As a mom, I am well-versed in the practical reasoning behind my kids' desire to snuggle with a lovey — they definitely helped to keep my kids calm as babies and toddlers. While I had definitely heard the advice to apply my scent to their lovey for extra comfort, I never knew just how my own scent on their lovey impacted them until now.