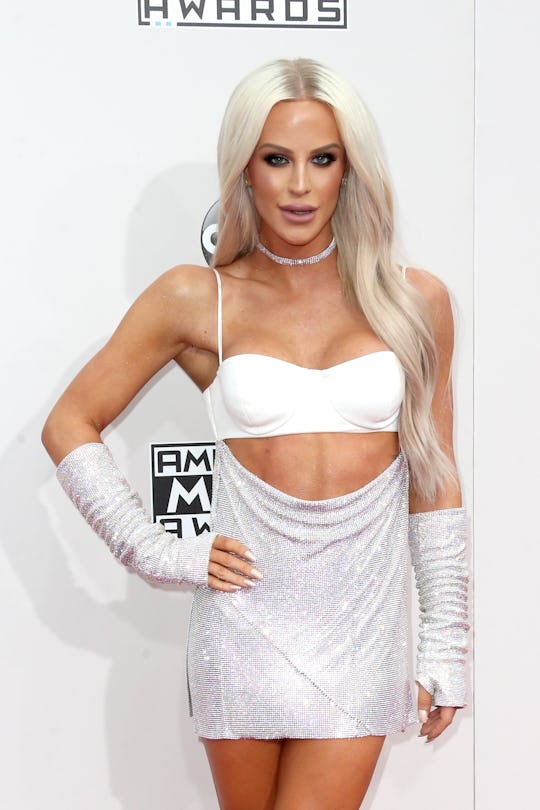 Frederick M. Brown/Getty Images Entertainment/Getty Images
Gigi Gorgeous Presents At The AMAs & Honors An Important Issue
When she took the stage to introduce Shawn Mendes, YouTube star Gigi Gorgeous used her platform to make an incredibly important, timely, and relevant announcement. Watching Gigi Gorgeous present at the AMAs and make an incredibly important message was a reminder of the importance of visibility for those fighting for continued rights for transgender people living in the United States and all over the world. In fact, Sunday night's American Music Awards coincided with the end of Transgender Awareness Week, which made Gorgeous' words all the more impactful.
According to GLAAD, November 14 through 20 marks Transgender Awareness Week, where individuals and organizations around the country do their best to help raise visibility of transgender and gender non-conforming people, and address issues the community faces. The final day of Transgender Awareness Week, November 20, is Transgender Day of Remembrance, according to GLAAD, a day that honors the memory of those who lost their lives in acts of anti-transgender violence. At Sunday night's AMAs, which were held on the final day of Transgender Awareness Week and also on Transgender Day of Remembrance, Gorgeous' public message was one that everyone in the audience, and all of those listening back home, should pay attention to.
Fans of Gorgeous were vocal on Twitter as she took the stage to present:
And even more took note of just how significant her words were on the AMAs stage:
After the election of President-elect Donald Trump in the early hours of November 9, many in the United States have been rightfully worried about what a Trump presidency means not just for their safety, but also of their position in the country. And he has a history of flip-flopping on issues affecting the transgender community. Though he's publicly said that "transgender people should be protected under the law," he's also said that laws, like the one in North Carolina that threatens ban schools and public buildings from accommodating transgender people, should be settled on a state-by-state basis.
Appearing on Jimmy Kimmel Live, the host pressed Trump on his stance on transgender bathroom rights. Trump said:
The party generally believes that whatever you're born, that's the bathroom you use. What I support is let the states decide and I think the states will do, hopefully, the right thing.
When pressed on what the "right thing" would be, Trump said: "I don't know yet, I mean, I don't know. Honestly, I don't know. It's a very, ah… interesting subject."
On Sunday night, Gorgeous' message echoed the importance of the very "interesting" subject. And here's hoping not just all of America, but all of the world, was paying attention.