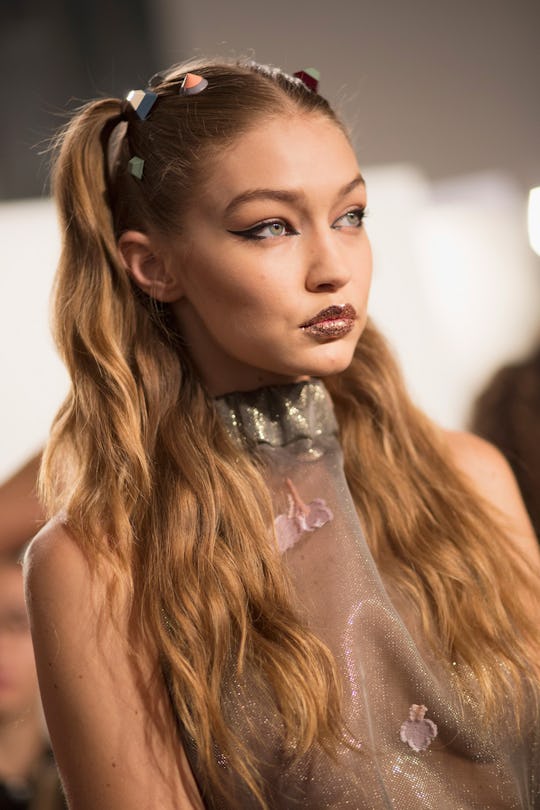 Tristan Fewings/Getty Images Entertainment/Getty Images
Gigi Hadid Defends Herself After Man Grabs Her & She Had Every Right To Do So
Here's a little lesson for anybody out there who might be planning on messing with Gigi Hadid: She's small, but she's mighty. The supermodel was in Milan, Italy for its famous fashion week recently and ran into a spot of trouble — namely a man who decided it would be totally OK to grab her without her permission. And here is what is so great about Hadid: she was just like, Oh hell no. Gigi Hadid totally defended herself when she was grabbed by that man, and now the internet loves her even more. Which is exactly as it should be.
The handsy fella in question is notorious prankster Vitalii Sediuk, who has weirdly made a name for himself by getting physical with celebrities on the red carpet. Apparently, he has grabbed Hollywood notables like Leonardo DiCaprio, Bradley Cooper, and Will Smith. Unfortunately for him, Hadid was not feeling any of this dude's nonsense (because who decided to get famous by grabbing famous people, I ask you?).
As Hadid and her sister, Bella Hadid, were happily leaving the Max Mara show in Milan, Sediuk approached her from behind and lifted her right off the ground. And those Hadid girls fought back. The two sisters lashed out at Sediuk, with Gigi elbowing him in the neck. Because just no, you don't get to touch people without their permission. Shouldn't this guy have learned that in kindergarten along with cutting and pasting?
Hadid might have fought back like a champ, but she appeared to be pretty frightened by the incident initially. In the video footage of the incident, she was screaming and flailing, calling out, "Let me go!". When the man (who was smirking the entire time and man, do I hate smirkers) walked away after lifting her up for his super hilarious 10 seconds of fame, Hadid actually tried to go after him before being stopped by a bodyguard. Because she is apparently crazy badass and we love it.
While many fans supported Hadid's right to defend herself, The Sun shared an article about the incident on Thursday with the title: "Not Model Behaviour: Gigi Hadid aggressively lashes out and ELBOWS fan in the FACE after he tries to pick her up."
Hadid was not impressed and shared her irritation at the blatantly sexist headline by sharing this tweet from Huffington Post writer Rachel McGrath:
As for the hilarious prankster who can't keep his hands to himself, Sediuk shared an Instagram post explaining that he was protesting the fact that Gigi Hadid and Kendall Jenner consider themselves "high fashion," when, apparently, they shouldn't. Or something. He wrote:
While I consider Gigi Hadid beautiful, she and her friend Kendall Jenner, have nothing to do with high fashion. By doing this I encourage fashion industry to put true talents on the runway and Vogue covers instead of well-connected cute girls from Instagram. You can call it a manifest or a protest. This is also a wake up call for Anna Wintour who turned Vogue into tabloid by putting Kardashians and other doubtful celebrities on a cover of a well-respected magazine.
Yes, this gent is clearly out to change the world, one inappropriate touching incident at a time.