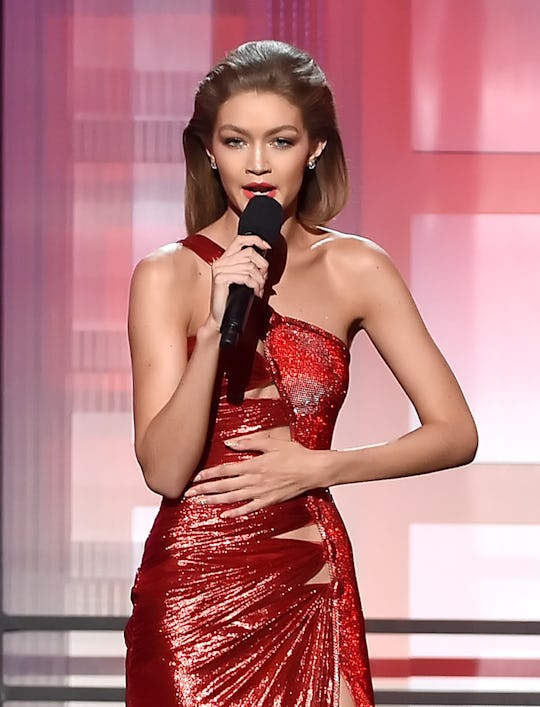 Kevin Winter/Getty Images Entertainment/Getty Images
Gigi Hadid's Melania Trump Impression At The AMAs Was Interesting, To Say The Least
Just when you thought election season was finally over and settled, oh no — Sunday night's American Music Awards wasted no time getting political. Co-hosts Gigi Hadid and Jay Pharoah took the stage at the Microsoft Theatre in Los Angeles, California and right away, Hadid wanted to show off that she can do impressions too, — just like her co-host. And who did she pick? Our future First Lady: Gigi Hadid's Melania Trump impression at the AMAs was, well, interesting, to say the least.
As soon as Hadid said that she was going to try her own Melania Trump impression, there were audible groans from the audience. Hadid took a moment to "get her face right," as she looked upstage and then back at the camera with super puckered lips. Side note: I need Hadid's matte fire engine red lipstick like, yesterday. Oh, and her makeup artist, too. In a very awkward and unnecessarily shout-y, deep-throated voice, Hadid tried her very best to pull off Melania. The impression only worked as far as the fact that both Hadid and Trump are models. Her clunky lines combined with a god-awful attempt at a Slovenian accent was just a really weird combo of awkward.
In case you couldn't quite understand Hadid's completely butchered attempt at Slovenian, she said: "I love my husband... President Barack Obama. And our children, Sasha and Malia." Pharoah immediately complimented his co-host, saying, "That's spot on!" Pharoah is a kind co-host, apparently, because it was spot awful. Seriously — Hadid's impersonation of Melania Trump was on par with what we can expect from drunk uncles at Thanksgiving dinner tables all across America this coming week.
I get what Hadid was going for: the scandal of the Republican National Convention this past July in Philadelphia, Pennsylvania when it was discovered that Trump had allegedly lifted parts of her speech from Michelle Obama's Democratic National Committee speech made eight years prior in Denver, Colorado. The speech gaffe became a staple of meme-worthy jokes throughout the rest of the summer. Even President-elect Donald Trump couldn't resist poking fun at his own wife at a charity dinner in October. Trump talked about how the media raved about Obama's speech, but when his wife gave the "exact same speech, people get on her case."
I don't know who concocted this Melania joke for Hadid at the AMAs, but it just fell flat. Thank goodness Hadid and Pharoah moved on from it so quickly that we can just forgive and forget about it entirely.