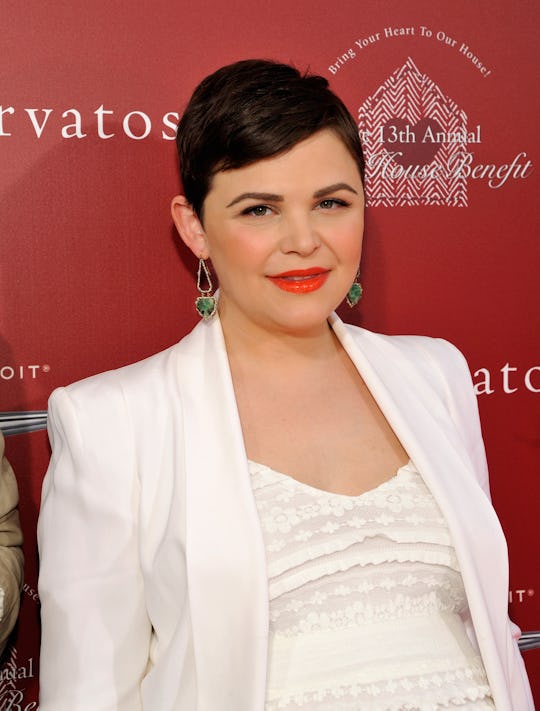 John Sciulli/Getty Images Entertainment/Getty Images
Ginnifer Goodwin Gives Birth To Second Child With Josh Dallas
Snow White and Prince Charming are seriously living their own, real-life happily ever after, it seems. On June 1, actress Ginnifer Goodwin gave birth to her second child, a baby boy, with husband Josh Dallas, according to E! News. The couple, who both star on ABC's Once Upon A Time, now have two boys: new baby Hugo Wilson Dallas and his older brother, 2-year-old Oliver Finlay Dallas.
The celebrity couple revealed that they were expecting their second child back in November, and in a real-talk interview with People in March, the now-38-year-old actress wondered about how she ever thought her first pregnancy was tiring, a thought she said was "laughable now."
"Now I'm running after a toddler, working on a series and doing a press tour," she said. "... "The first time you feel like you are pregnant for four years. This time, I don't know how many weeks I am. I have to reference my date book!"
Goodwin and Dallas, 34, welcomed Oliver about a month after they got married in April 2014. And their older son is undoubtedly excited about having a baby brother — Goodwin also told People that the soon-to-be big brother would pat his mom's belly every day and say "Hello, baby." If that's not the cutest, then I don't know what is.
Us Weekly reported that Goodwin and Dallas were dating in March 2012, while they were working on the show together, although the magazine cited unnamed sources who said the two had been seeing each other since the fall. Dallas also told the magazine he looks for "fun and smarts" in a partner, and that he'd like to date a "a witty, strong sexy woman."
He's found his match, as a gig on Once Upon A Time, turned out to be the beginning for these lovebirds who now have a growing family.
It certainly looks like they have that chemistry onscreen as well:
Although their meet-cute is undeniably a great story, Goodwin and Dallas aren't alone in the "act together, stay together" scenario. Alexis Bledel — whom you know best as Rory on the classic Gilmore Girls — and Vincent Kartheiser met when she guest starred with him on AMC's Mad Men in 2012, and the two subsequently got married and had a baby boy of their own, albeit far from the public eye.
So cheers to television romances that result in real-life (and, more than likely, completely adorable) babies. Congratulations are in order for Snow White and her Prince Charming!