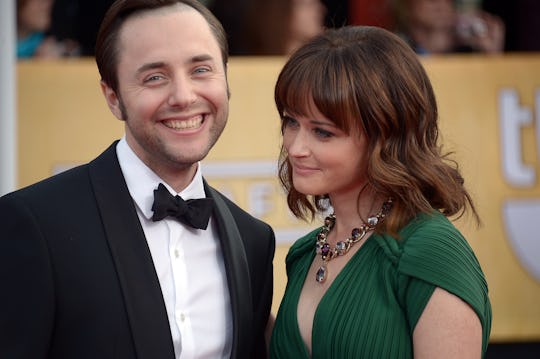 JOE KLAMAR/AFP/Getty Images
How Did Alexis Bledel & Vincent Kartheiser Meet? A TV Romance Blossomed Into More
Months after the fact, Alexis Bledel fans are just now learning that the Gilmore Girls and The Sisterhood of The Traveling Pants star had a baby boy sometime late last year. She welcomed the baby, whose name we don't yet know, with her husband, Vincent Kartheiser, who is — surprise! — also an actor. The two got married in a super-secret California ceremony in 2014, and succeeded in keeping Bledel's entire pregnancy clandestine (or at least unconfirmed, as fans will always speculate), even while Bledel was in the midst of filming the upcoming Netflix Gilmore Girls revival (or so the rumor goes). So all this news has Rory and Lorelai diehards wondering whether this means Bledel's character, Rory, will be pregnant when she returns to Stars Hollow. Or perhaps even more exciting, in real life, how did Alexis Bledel and Vincent Kartheiser meet?
When Bledel and Kartheiser first met, she was his mistress. That was on the set of AMC's critically acclaimed Mad Men, when Bledel guest-starred in 2012 as the season five lover of Kartheiser's character, Pete Campbell. On the show, Pete Campbell's wife throws him out for cheating, but in reality, Kartheiser and Bledel were soon happily dating. But although things got pretty intimate between them on the show, Kartheiser told Vulture that they didn't start seeing each other romantically until two months after the end of the season they shared. "We were completely professional," he said.
Professional, indeed. And the pair's Mad Men costars wholeheartedly approve. Rich Sommer, who played ad exec Harry Crane on the show, told Us Weekly in 2014 that the whole cast was could tell that they were a perfect match.
"She's lovely, and I can truly say that [Kartheiser] is night and day — he's a different person since they first started hanging out," he said. "All of us knew that it was going to happen, so it's a very lovely thing."
Even the creator of Mad Men, Matthew Weiner, told Vulture that he predicted the Bledel and Kartheiser would get married.
Honestly, they're a really good match. They're both very down to earth, with a sense of responsibility and strong family ties. And they've been acting since before they can remember, which makes for a very special personality. It's not just that I thought they would look cute together.
The two made their public debut as a couple in October 2012, when they walked the red carpet together at a New York City photography event. The situation may have been new to fans then, but now that they have a son, all those steamy Mad Men scenes really take on a new meaning.