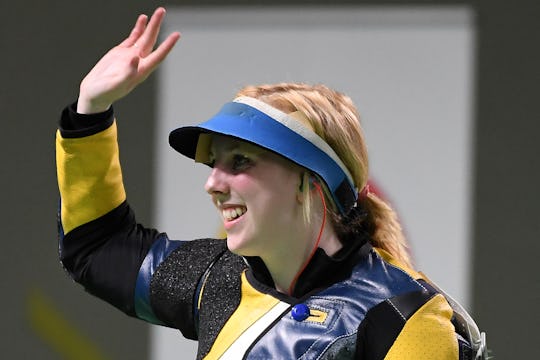 PASCAL GUYOT/AFP/Getty Images
Ginny Thrasher Wins First Gold Medal For USA At Rio Olympics
The 2016 Olympic Games in Rio de Janeiro began on Friday, and Team USA is rocking it right out of the gate. While the major events were just getting underway, Ginny Thrasher won the first gold medal for USA at the Olympics and made her country proud. While it's already pretty amazing that she won the first gold medal for Team USA at the Olympics, what's even more amazing? Ginny Thrasher (and can we all just take a moment to enjoy how supremely bad ass her name is?) is just 19-years-old.
Thrasher won her gold in a surprising upset against China's Du Li and Yi Silling (who took home the silver and bronze respectively) in the women's 10-meter air rifle event on Saturday morning. Heading into the Games, Thrasher was not considered the favorite: the number one ranked woman in her division was Andrea Arsovic of Serbia, who failed to make it to the finals. In fact, just three years ago, when she was 16-years-old, Thrasher was considered only the 45th best junior air rifle shooter in the United States. And now, here she is winning the first Olympic gold of the Rio Games; what a difference three years (and an unbelievable amount of perseverance) can make.
So how exactly did Thrasher come to be one of the world's best air rifle shooters? It wasn't her first choice' she actually started out wanting to be an Olympic figure skater until she started joining her grandfather, father, and brothers on a hunting trip. The first time Thrasher took down a deer, she was hooked.
"The adrenaline rush was incredible," Thrasher said.
She began competing with her high school in Virginia and went on to win the 2015 air rifle state championship, according to NBC Olympics. A fan of working her way through puzzles, it was the element of problem-solving in shooting that really spoke to Thrasher.
"What's most attractive of rifle is the mental side of the sport," she said. "Anyone can go and hit a 10, it's not that hard. To go and shoot 10 after 10 after 10 in a big event is very hard. You have to have a mastery of the mental side, controlling your emotions, following your process and not thinking about the outcome."
Her coach, Jon Hammond, credits Thrasher not only with being a strong shooter but on her marked improvement over the last year.
"What makes the situation more unique is the improvement she made over the course of the year. The improvement she made from the start of the year to the end was dramatic."
Thrasher will next compete on Aug. 11 in the three-position event. Whatever the outcome of her next event, she has made her country proud.