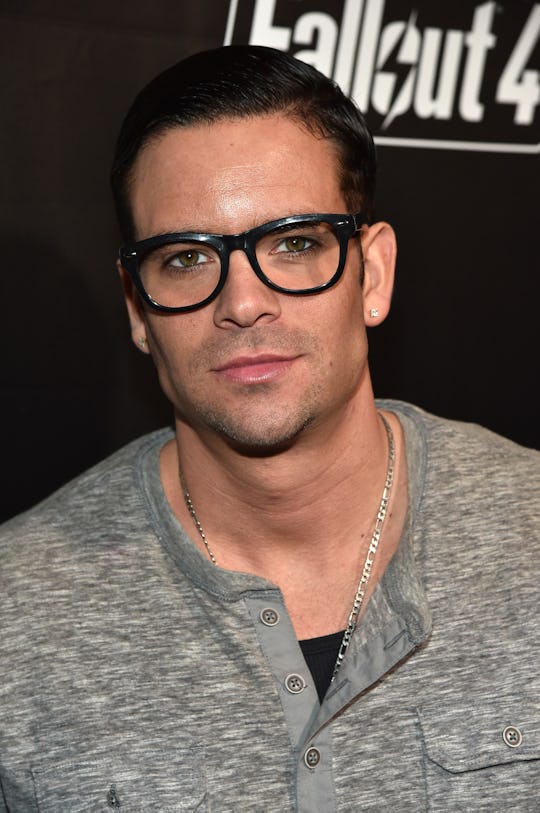 Mike Windle/Getty Images Entertainment/Getty Images
'Glee' Star Mark Salling Has Died Of An Apparent Suicide At 35 — REPORT
On Tuesday afternoon, TMZ reported that Glee star Mark Salling has died of an apparent suicide at the age of 35. Fans of the hit FOX series might remember the actor from his role as the bad boy singer/football player Puck. Salling was reportedly found at the Los Angeles River near his home in Sunland, California on Tuesday morning. Romper's request for comment from the Los Angeles Police Department regarding reports of Salling's death was not immediately returned.
The Los Angeles County Coroner's office had not officially confirmed Salling's death as of Tuesday afternoon, as Page Six reported they were trying to contact his next of kin first. However, Us Weekly reportedly has confirmation from the LAPD that Salling has died.
Salling was awaiting sentencing after pleading guilty in December to possession of child pornography involving a prepubescent minor, according to Us Weekly. His sentencing hearing was scheduled to happen on March 7 and was reportedly expected to serve between four to seven years in prison as part of a plea deal reached with prosecutors this past October, the publication reported. Salling's attorney, Michael Proctor, released a statement to People at the time regarding Salling's plea agreement:
Mark is focused on accepting responsibility and attempting to atone for his conduct.
Federal investigators reportedly found more than 25,000 images and 600 videos depicting child pornography on Salling's computers and thumb drives, as People reported, adding that court documents found that the content "depicted children as young as 3 years old being abused."
Proctor confirmed Salling's death on Tuesday afternoon in a statement to People on behalf of the actor's family:
I can confirm that Mark Salling passed away early this morning. Mark was a gentle and loving person, a person of great creativity, who was doing his best to atone for some serious mistakes and errors of judgment. He is survived by his mother and father, and his brother. The Salling family appreciates the support they have been receiving and asks for their privacy to be respected.
Although Salling's official cause of death has not yet been released, law enforcement officials reportedly confirmed with TMZ that Salling hung himself in a tree near the Los Angeles River close to his home and was discovered in the early hours of Tuesday morning.
Born in Dallas, Texas in 1982, Salling became something of a household name after playing the role of Noah "Puck" Puckerman from 2009 to 2015 on director Ryan Murphy's musical-comedy hit Glee. Months after the Glee series finale aired in 2015, Salling was arrested on child pornography charges, as The Washington Post reported. In 2016, Salling was reportedly indicted in two court documents, according to People, on child pornography charges.
Before his breakout role in Glee, Salling also had a guest starring role on Walker, Texas Ranger in 1999 and the made-for-TV movie Rocky Road in 2014, according to The Washington Post. And before becoming an actor, Salling was pursuing a career in music; he attended the Los Angeles College of Music in Pasadena, California and freelanced as a guitar teacher, according to Billboard. Eventually, Salling wrote and produced his own work for Jericho Productions, creating his first album, Smoke Signals, in 2008 under the stage name Jericho. He released a second album in 2010 on his own steam for Pipe Dream Records called Pipe Dreams, but only managed to crack the Top 40 charts with his rendition of Neil Diamond's "Sweet Caroline" for the Glee: The Music Vol. 1 soundtrack.
If you or someone you know are experiencing suicidal thoughts, call 911, or call the National Suicide Prevention Hotline at 1-800-273-8255.