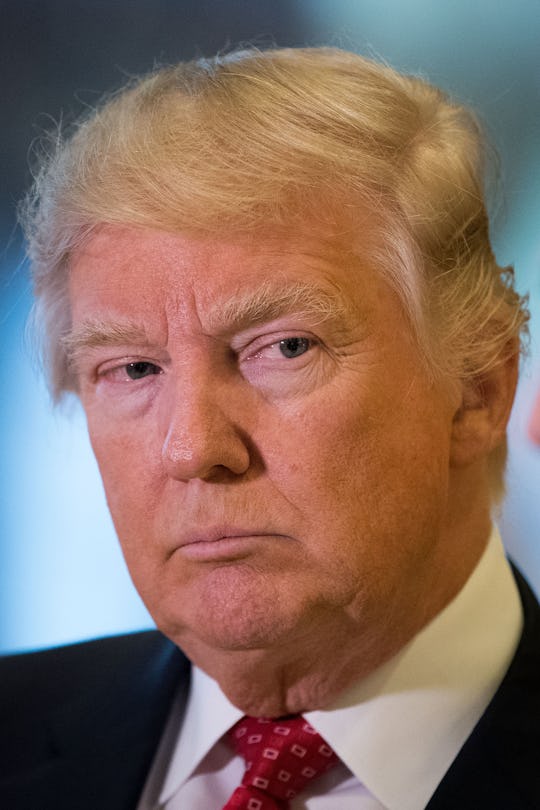 Drew Angerer/Getty Images News/Getty Images
Golden Showers Jokes, Because Welcome To 2017
As the world prepared for the 44th President of the United States to deliver his final address on Tuesday, President-elect Donald Trump was stealing a little thunder. For those of you who aren't in on all of the golden showers memes and jokes, maybe you should just count yourself lucky. Or join the conversation.
So let's get this nasty bit of business out of the way first: BuzzFeed recently obtained a 35-page dossier detailing, among other things, Trump's alleged ties to Russia and reports that Russia has allegedly been "cultivating, supporting, and assisting" the president-elect for years. The unverified report, allegedly compiled by a British intelligence officer, also dropped another unverified bombshell; Trump reportedly paid prostitutes at the Ritz-Carlton in Moscow to urinate on a bed where he knew President Obama and Michele Obama had slept. The report alleged:
According to Source D, where s/he had been present, TRUMP's (perverted) conduct in Moscow included hiring the presidential suite of the Ritz Carlton Hotel, where he knew President and Mrs OBAMA (whom he hated) had stayed on one of their official trips to Russia, and defiling the bed where they had slept by employing a number of prostitutes to perform a 'golden showers' (urination) show in front of him.
(Again, these reports are not yet verified, so take that with a grain of salt. Romper has reached out to the Trump team for comment on the claims and is awaiting a response.)
Naturally, hilarity ensued on the internet.
The golden showers tweets, memes, and jokes went from the visual:
To the musical...
To the poetic:
To that A-ha moment:
I say again... these allegations are still just that: allegations. President-elect Trump and President Obama were reportedly both given the dossier to look over, and Trump was quick to respond (generally, and with succinct vehemence) to the accusation on Tuesday, once the report made headlines:
Which I guess means he has finally forgiven "overrated" actress Meryl Streep. So that's something.
While millions of people tuned in to listen to President Obama's final address with a sense of weighty melancholy and a more than a tinge of sadness, others on the internet were kind enough to remind us of that time Trump took the ALS bucket challenge... and all the jokey implications therein:
Some also took a moment to give us a little history lesson, a reminder of where we've come from (former President Bill Clinton's escapades) and give us a glimpse into where we could be going:
We will probably never know for sure if these allegations are true. The divisive nature of the country will mean sides will be taken, accusations will be made, and lies will be told.
But here is the one true thing we all must deal with: This man will be the next president of the United States. He will sit in the Oval Office, and he will be the commander in chief.