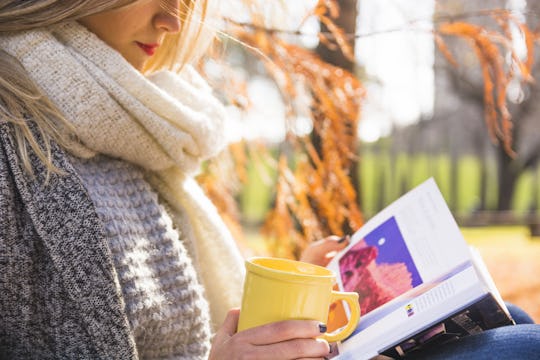 Shutterstock
You'll Want Every Novel On Goodreads' Most Anticipated Fall Books Of 2019 List
The best thing about fall (other than pumpkin everything) is being able to curl up with a good book, wrapped in a blanket or by a fireplace, and sipping on a hot beverage. Oh man, I am so excited. There's something about the cold outside that makes snuggling up with a good book seem that much better. And if you are able to grab one (or all) of the Goodreads most anticipated books of fall, well it will be that much better.
Goodreads put together one heck of a list. The website compiles their lists by checking out what their more-than-90 million members add to their want-to-read shelves, which apparently includes 18 million books. And that giant list is bringing me all the nostalgic feels since Stephen Chbowsky — author of Perks of Being a Wallflower — is on the list as he finally has another book coming out.
Plus there's a book by Jojo Moyes on the list and The Night Circus author Erin Morgenstern has another book ready for fall reading. And you know Morgenstern's book will be a beautiful work of art to devour all season long. Some of these books have already been released, but the others definitely give you something to look forward to.