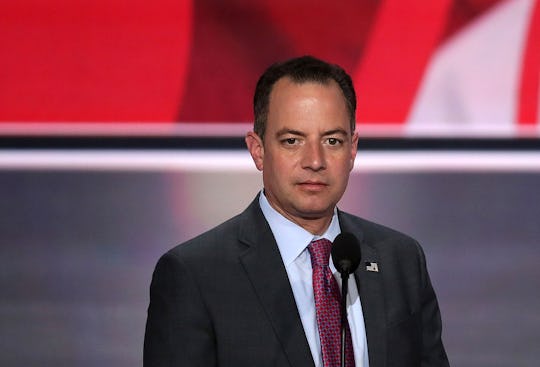 Alex Wong/Getty Images News/Getty Images
GOP Chair Reince Priebus Condemns Donald Trump's Latest Comments About Women
Donald Trump has made a seemingly endless number of derogatory comments about women in his day, but a tape of the Republican presidential nominee saying it's fine to kiss and grab women without their consent put some Trump supporters over the edge Friday. They apparently included the head of the Republican National Committee. GOP chairman Reince Priebus condemned Donald Trump's latest comments about women in a statement released Friday evening, Politico reported:
No woman should ever be described in these terms or talked about in this manner. Ever.
The footage and audio, obtained by The Washington Post and released Friday, features Trump in 2005 having a conversation with then Access Hollywood host and current Today show co-host Billy Bush about women. Trump can be heard saying he'd tried to have sex with a married woman; that he might kiss actress Arianne Zucker, opposite whom he was about to make a guest appearance on the soap opera Days of Our Lives ("When you're a star, they let you do it. You can do anything," he said); and as an example of "anything" offered "Grab them by the p---y." Needless to say, this is not a language or attitude that Republicans — or anyone — is used to seeing in a presidential candidate.
It didn't take long for the Republican party establishment to begin weighing in, and none of the reactions were too great for Trump. Everyone from Mitt Romey to Jeb Bush condemned Trump's comments, but perhaps no statement was as important as that of the head of the party that nominated Trump for the presidency:
In response, many applauded Priebus, but others suggested that he missed the point. Jason Easley at PoliticusUSA theorized that Priebus' response means Republicans "will try to frame the tape as Trump using inappropriate language towards women while ignoring the actions that Trump was bragging about." In other words, Priebus is complaining about Trump's words, not his admission that he has no regard for whether a woman consents to his advances.
New Yorker TV critic and astute social observer Emily Nussbaum made the point more explicitly on Twitter:
Easley argued that Priebus' response was actually a way of communicating that the party will stand behind Trump; they condemn his language, not his attitudes or actions.
If that's the case, it not only perpetuates the idea that women are delicate dolls who shouldn't be spoken about or exposed to certain language, it makes Trump think that his behavior and beliefs are acceptable, at least to his voting base. And that could make for a very long, painful final month of the election.