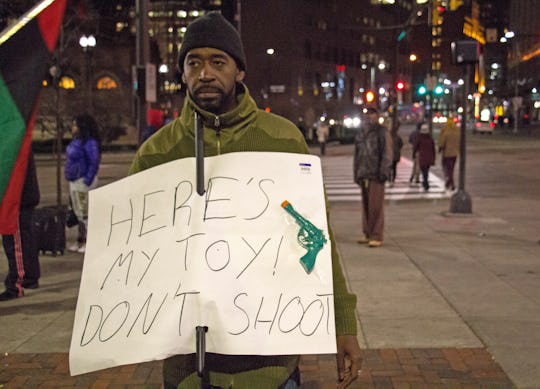 Grand Jury In Tamir Rice Case Won't Charge Police Officers In His Death
On Monday in an Ohio courtroom it was announced that the grand jury in the Tamir Rice case won't charge police officers in his death, ABC News reported. Rice, 12, was fatally shot by police last year on a Cleveland playground. Rice was reportedly holding a toy gun when Cleveland police officer Timothy Loehmann shot him in November 2014.
Cuyahoga County Prosecutor Timothy McGinty told reporters that "it became clear" that the actions of Leohmann and his partner, Frank Garmback, were not criminal. Rather, McGinty referred to them as a "perfect storm of human error," according to The Hill. "Every time i think about this case, I cannot help but feel that the victim could have been my own son or grandson," McGinty reportedly said.
The shooting occurred when police responded to a 911 call saying someone was brandishing a gun. According to McGinty, the 911 dispatcher did not pass on to police the crucial information from the caller that the person with the gun was probably a minor and the gun probably a toy. AL.com reports that the two officers arrived at the Cudell Recreation Center at 3:30 p.m. Rice was playing with a toy pellet gun whose orange tip had reportedly been removed.
As captured on area surveillance cameras, the officers approached the gazebo where Rice had been seated. Rice approached the car with his hands near his waist. Loehmann jumped out of the passenger side and shot him.
The grand jury hearing lasted three months and examined written reports from experts, statements read by Loehmann and Garmback, and testimony from Rice's family.
The Hill noted that the decision comes at a time of great tension between the public, police, and lawmakers over police shootings of civilians. Police shot and killed two civilians, Bettie Jones, 55, and Quintonio LeGrier, 19, while responding to a domestic violence Saturday. Jones, a mother of five, was shot accidentally, police said, according to CNN.
On Twitter, reactions to the grand jury decision reflected mostly utter dismay:
Image: Jordan Gonzalez/Getty Images News