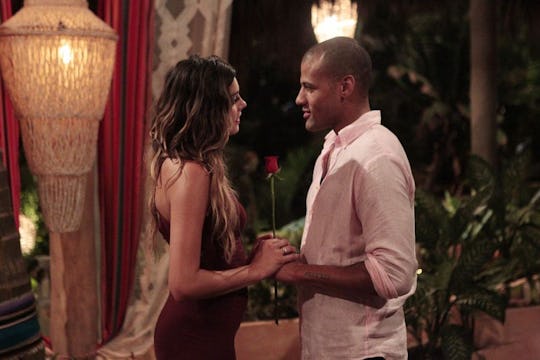 ABC/Rick Rowell
Grant Proposes To Lace On 'Bachelor In Paradise' So Those Tattoos Weren't For Nothing
When Grant and Lace woke up the morning after their fantasy suite date, unsure and freaking out over the status and strength of their relationship. we were all worried. But it was for naught, because even though they were a few conversations shy of what Grant deemed necessary to propose, Grant and Lace got engaged on Bachelor in Paradise Tuesday night. So no, those "Grace" wrist tattoos weren't for nothing and didn't become relics of a whirlwind romance gone wrong. Because both halves of the cuteness that is Grace were able to fall equally in love and see the goodness in their relationship.
There were plenty of hiccups along the way to Lace and Grant's final rose ceremony on Bachelor in Paradise, because Lace had a lot of opening up to do with Grant and he was all in from the beginning. But once they were able to get past any issues as individuals and as a couple, Lace and Grant were able to take that final step and get engaged on Bachelor in Paradise. Scarily enough, they could have easily met for their rose ceremony and mutually decided to end things or try their relationship away from paradise, but with no engagement, but the latter was obviously Lace's endgame for the season. And she got it.
Honestly, it was hard not to worry about the fate of Grant and Lace on Bachelor in Paradise when they woke up after their fantasy suite date and were both feeling regretful and worried about their possible impending engagement. It's not exactly the way you want to start the day when you might be proposing or getting proposed to later on, but somehow they managed to work through whatever issues were bothering them in time for a proposal at the end of their stay in paradise.
And before anyone complains that the spontaneous and sometimes wild couple might be moving too fast and probably didn't make it once they left, Grant and Lace are living together in San Francisco, so at least for now, their engagement is standing solid. Also, you probably shouldn't get matching tattoos of what is essentially your partner's name unless you're sure about your connection and your future together, so hopefully being together in real life proves to work for Grant and Lace and we can continue to use the hashtag of #Grace to keep track of them and love them. There's always that triple wedding Chris Harrison is hoping for.