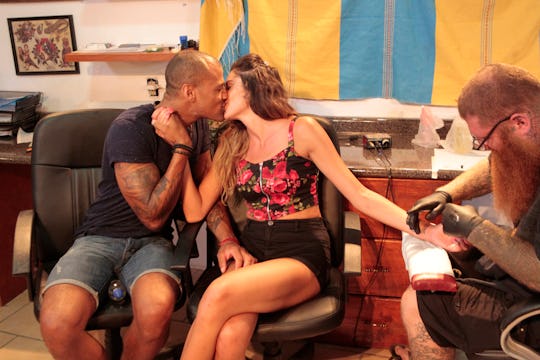 ABC/Rick Rowell
Photos Of Lace's Engagement Ring On 'Bachelor In Paradise' Show The Commitment "Grace" Has
Grant and Lace have been a longtime couple on Bachelor in Paradise – well, if you consider three weeks a long time...and conveniently forget that Chad was on the show and he and Lace were a "thing" for a minute. Regardless, Grant and Lace – or Grace, as they're one of those couples that call themselves a joint name – have lasted throughout the season. It was all leading up to the finale: would they get engaged after three weeks of dating? This is Bachelor Nation, so of course, and Lace shows off her ring on Bachelor in Paradise to prove it.
If you've been following Grace on the show, you know Grant has been all-in from the beginning. He was the first one to say "I love you," and often talked about how "strong" their relationship is – which is pretty ridiculous since they've known each other for less time than milk takes to spoil, but compared to other couples in Paradise it seemed true. While Lace did not immediately say the words back, Grant was sure she felt the same way and their relationship continued to grow.
Fast forward to Monday night's part of the finale. While on a date, Grace (well, Grant more so) decided it would be a great idea to get matching tattoos that said "Grace." They stopped by a convenient tattoo parlor, run by an artist who was engaged to his wife twelve days after meeting. Grant had no hesitation getting "Grace" tattooed on his wrist (which is no surprise, seeing as he has tattoos dedicated to other girlfriends); Lace initially did, but she got one as well.
Since tattoos are more permanent than an engagement ring, it's no surprise that that was their next step. On Tuesday night's episode, Grant picked out a ring he thought was perfect for Lace. He proposed on the beach, and now the pair are planning their wedding. Will they last, or be one of the many other couples whose love faded after the cameras stopped rolling? Only time will tell, but for now we can enjoy judging Grant and Lace's taste in rings, and wish them the best.