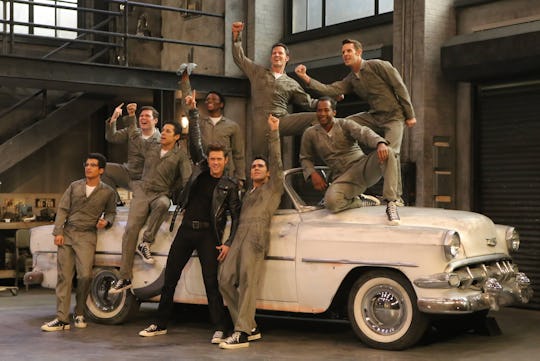 'Grease: Live!' Changed "Greased Lightning" Lyric To "Dragon Wagon" & Twitter Is Confused
We knew some of the Grease: Live! lyrics were going to be different than those in the 1978 movie. One obvious, predictable change was when the T-Birds said "the chicks'll scream for Greased Lightnin" instead of "cream." But, the writers really stretched it when they changed other "Greased Lightnin'" lyrics from, "You know that I ain't bragging she's a real p*ssy wagon" to "dragon wagon." And you definitely weren't alone if you were like, "What's a dragon wagon?!" Twitter was quick to pick up on the change — but even the people of the Internet couldn't make sense of it.
Ahead of the PG show, executive producer Marc Platt explained the Grease: Live! lyrical updates were necessary for viewers and advertisers. "It's going to be a very family-friendly show, but with the appropriate edge that it needs to have," Platt told Ad Week. With all that planning, you would think the writers could have come up with something other than "dragon wagon," though.
When the T-Birds got to it in "Greased Lightnin,'" Twitter quickly picked up on the head-scratching swap.
Others picked up on the fact that the show still wasn't completely desexualized.
Worse yet, the producers apparently thought it was A-OK to keep the questionable "Summer Lovin'" lyrics. At least we'll have the dragon wagon laughs.