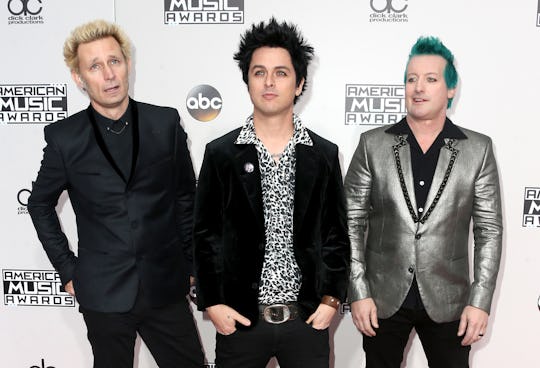 Frederick M. Brown/Getty Images Entertainment/Getty Images
Green Day Chants "No Trump" At The AMAs & It's Met With Mixed Response
Of all the things I did not know I needed these last two weeks, I'd like to put Green Day at the top of the list. The punk band returned to the stage at the American Music Awards (AMAs) Sunday night, and they didn't play it safe by any means. While making their position on the United States presidential election quite clear, Green Day chants "no Trump" at the AMAs to really solidify their stance on things. I mean, at least no one will have any confusion as to where they stand?
Unsurprisingly, many in the crowd and those watching back home met Green Day's ambitious performance with lukewarm response. Though President-elect Trump's journey to the presidency was met with a very, very mixed feelings by the American people, many felt that using their platform on the AMAs stage to insult our President-elect was an act done in poor taste. Others, however, felt Green Day's performance couldn't have been more well-timed, especially given the fragility of our country and the unrest Trump's election has caused for so many individuals, communities, and causes. One thing is for sure, however: Green Day got people talking, and right now, it's hard to argue that talking is a bad thing.
According to The Hollywood Reporter, Green Day released their 12 studio album, Radio Revolution, last month. And Sunday night's performance marked only the second time they've appeared on the AMAs stage. The only other time they've performed at the show, The Hollywood Reporter notes, was for their song "21 Guns" in 2009.
In a September 2016 interview in Rolling Stone, Billie Joe Armstrong spoke candidly about getting back to the very thing that made Green Day, Green Day:
You have to get out of trying to outdo and one-up yourself all the time. We had to break that habit, because suddenly we weren't really being ourselves anymore... I was a little burnt out on being in Green Day. We needed to stop. There was a thing where it was like, 'What should we be today?' Let's be Green Day. Green Day is awesome!
Sunday night's performance also marked a return to something the band has always done well: speaking up, and without frills, about the issues that matter most to them. The most glaring one? The election of Donald Trump as President of the United States. And taking the stage tonight and singing "Bang Bang," Green Day's AMAs performance made Green Day's position pretty damn clear, regardless of how everyone else feels about it.