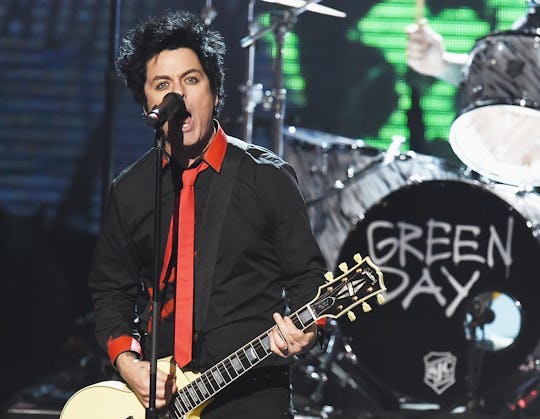 Kevin Winter/Getty Images Entertainment/Getty Images
Green Day's AMAs Performance Went Off With A "Bang Bang"
It's been decades since its debut album, but Green Day is as relevant in 2016 as it was in the '90s. Which is why fans were exited to hear the power trio would be performing at the American Music Awards on Sunday Nov. 20. And Green Day's AMAs performance was intense, curse-filled, and just what fans wanted.
The AMA performance is timed perfectly with the band's upcoming tour. According to Billboard, Green Day is going on tour to promote its 12th studio album, Revolution Radio, according to Billboard. The group sat down for an interview with NME and front man Billie Joe Armstrong talked about how much fun the group has has dusting off hits from Nimrod, Kerplunk, and American Idiot in preparation for their tour, which kicks off in 2017.
"We played these shows for the hardcore fans in the theaters and clubs and we just had a blast, and you could tell because the energy in the crowd was energizing us," Bille Joe Armstrong told NME. "They expect us to be great, and we have to live up to that. We just put as much passion as we can into what we do."
But if you're thinking about heading out to one of Green Day's upcoming tour stops, Billie Joe Armstrong has an important message: put your phones down and enjoy the live music experience.
"You can take your picture but let's have eye contact, let's have a human experience right now you can't capture on a cell phone," Armstrong said according to the UK's Daily Star. "Why would you want to listen to your favorite song going like this [holds arm in air] when you can just hear it right in front of you? I feel like a little more human contact is good."
But it was probably hard for fans not to whip out their phones during the AMAs performance. In the hours (and, lets be frank) days leading up the AMAs, fans were tweeting their excitement over the band's return to the stage.
And when the band took the stage — donning their typical tight black button downs, jeans, and ties — to perform its newest hit "Bang Bang," they did not disappoint fans at all. Heck, they even threw in some pyrotechnics for good measure.
Of course, it wouldn't be a Green Day performance without some type of statement. Green Day shouted "no Trump" during the AMAs performance, which elicited a series of responses from fans at home. Some were supportive of Green Day's stance against the recent president-elect.
Some were angered by the band's desire to mix politics and pop culture.
And many wanted to hear what Trump would have to say about the performance.
Political message or not, it's clear by Green Day's performance that the band is back and ready to rock across the country.
Addition reporting by Leah Rocketto