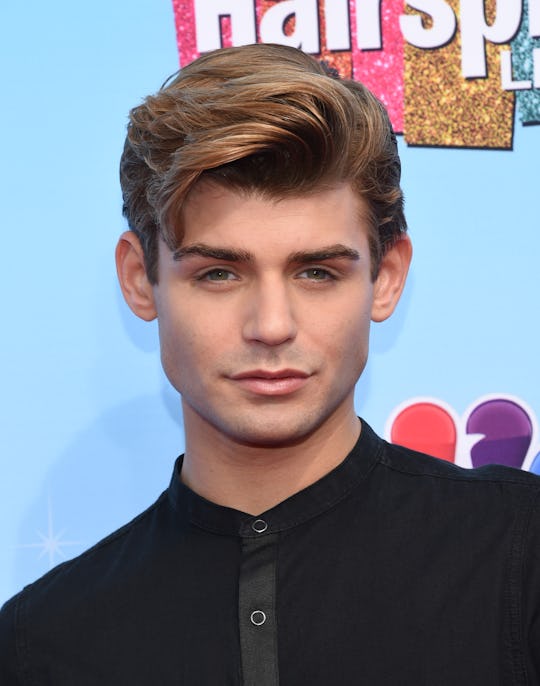 CHRIS DELMAS/AFP/Getty Images
'Hairspray's Link Looks Like A Ken Doll, According To Twitter, But He's More Than That
Hairspray's Link is supposed to be the perfect teen dreamboat by 1960s standards, so that means clean-cut clothes and hair slicked with Brylcreem. It also means he bears a striking resemblance to a Ken doll, something Twitter was quick to notice when Link appeared on screen soon after Amber was spotted waving around his doll doppelgänger during "Mama, I'm A Big Girl Now." But while Hairspray's Link might look like a Ken doll, according to Twitter, he's much more than that.
One could argue that looking like a Ken doll is the whole point when it comes to Link: he's supposed to be conventionally attractive because he's the star of a wholesome teen dance program. He's meant to emulate the kinds of heartthrobs who starred in teen movies at the time, like the young male stars of Beach Blanket Bingo and Gidget (perhaps not coincidentally, the actor who plays Link, Garret Clayton, was also in Disney's 2013 film Teen Beach Movie). It's not until Tracy is cast on The Corny Collins Show that those conventional norms begin to break down. But while Link fits right in with his Ken doll look, he ends up being not nearly as narrow-minded as some of the other "Nicest Kids in Town."
There's more to Link than his style, but there's also no denying his resemblance to Barbie's BF, especially because fans on Twitter couldn't get enough of the comparison. Link's perfectly sculpted swoop of hair was pure Ken doll, and that look definitely appealed to a portion of the audience.
Link is a character who does a lot of growing over the course of the musical. He starts off as someone who doesn't necessarily question the way things are; he's the star of The Corny Collins Show, and he's not willing to risk that for anything. As an affluent, popular, conventionally good-looking white boy, Link pretty much embodies the height of male privilege. All he cares about is getting his big break one day. However, that changes when he falls in love with Tracy.
Tracy inspires Link to be a little less superficial and to think about people besides himself. Following her example makes Link more than the empty-headed leading man he was at the start of the show, and it drives home the message of the musical. Hairspray is a show that's about not judging someone for how they look, but instead for the content of their character. And Link's character ends up being far more than a plastic doll — instead, he's the kind of guy you want to root for.