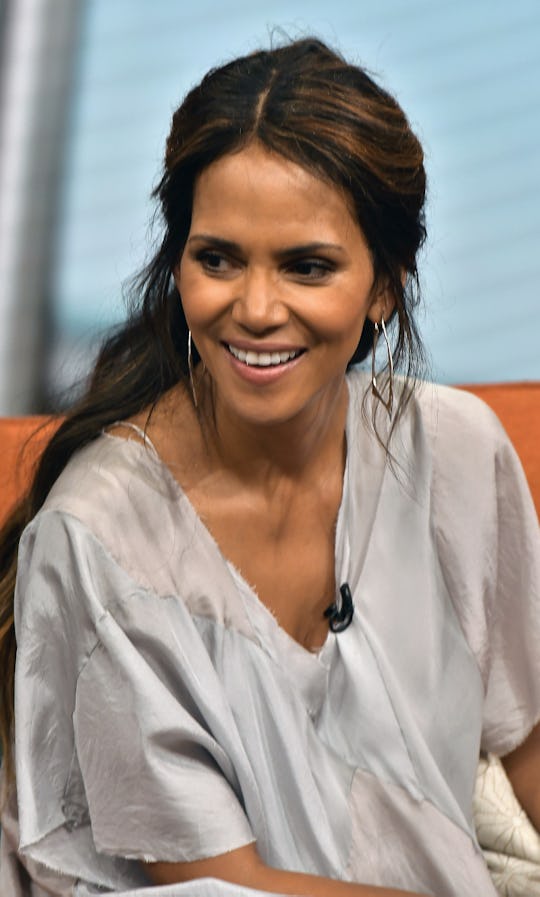 Gustavo Caballero/Getty Images Entertainment/Getty Images
Halle Berry Opens Up About Being A Working Mom
Halle Berry has had a pretty fabulous career so far. The 50-year-old was the first woman of color to win an Oscar (for Monster's Ball), she's played two butt-kicking superheroes (Catwoman and Storm in the X-Men series), and even played a Bond girl. The actress is multitalented, beautiful, and sort of seems like she's got it all figured out. Except, it seems, she would be the first one to tell you... she hasn't got it all down pat. And she's OK with it. Berry opened up about being a working mom to People recently, and I think most other working moms will be nodding their heads in total agreement with what she had to say — which is sort of refreshing, because I figure if Halle Berry is just trying to keep everything together, my own life expectations can now be lowered considerably.
Berry, who has two movies coming out over the next few months (Kidnap on Aug. 4 and Kingsman: The Golden Circle on Sept. 22), is the mother of two children. Her daughter Nahla, whom she shares with ex-boyfriend Gabriel Aubrey, is 9, and son Maceo-Robert, whom she shares with ex-husband Olivier Martinez, is 3. Speaking to People, she had a little advice to offer parents who are trying to figure out how to perfectly balance work and kids — don't:
You don't ever balance it completely. It's a constant struggle of a little more time there, a little more time here, and feeling a little bit guilty all the time.
While being pulled every which way can get frustrating, and it can start to feel like you are doing everything wrong, Berry cautioned parents not to let it get them down. Because having a successful career can help you succeed as a mother (even if it doesn't always feel like it). The actress noted while judging The Final Pitch For The Venture, a social entrepreneurs initiative sponsored by Chivas:
Having careers and being fulfilled that way makes us better mother. It makes us better able to operate in our careers with a sense of compassion and empathy that make us better businesswoman. We have to have them both and we have to keep trying to figure it out. And we get it wrong sometimes. And guess what, that is okay too.
As for that pesky jerk guilt, it's not going away any time soon. A 2015 study by Harvard Business School found that working mothers were actually a positive influence on their children, but feelings of guilt were almost always present. Berry's advice? She told People:
I just keep telling all my mom friends who work that it's ok to give ourselves a little slack sometime and not let the guilt sit on us so heavily and know that we are doing the best we can.
Which is really all any of us can do, right? Focus on the quality time you have with your children. If you're lucky enough to love your job, realize what a positive, rare, and beautiful bird that truly is, and know you're passing along an ever-important sense of independence to the little people in your life. Berry noted that, while she has a son she hopes to influence, she wants to set an example for her daughter. She said in that same interview:
For both of my kids, but I have a daughter and she is going to have to work and I want her to work and have that independence and be the captain of her ship in life.
Wise words, indeed.