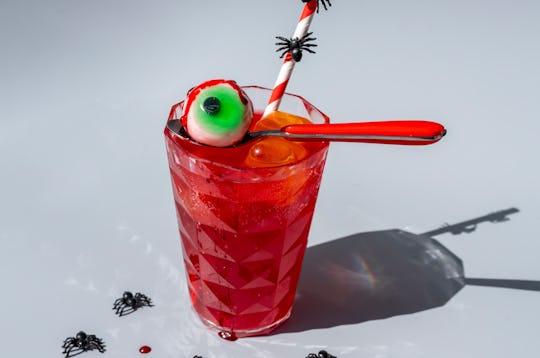 Volanthevist/Getty
20 Halloween Cocktail Recipes So Good, It's Scary
When you're a kid, Halloween is all about trick-or-treating and loading up on enough candy to last you a year. But as an adult, it's more about treating yourself to some spiked punch, witch's brew, or one of the many other wickedly good cocktail recipes for Halloween. After all, why should the kids have all the fun?
If you're not sure what to mix up for your fright night fete, don't be afraid to branch out with some unusual ingredients like Velvet falernum, a Caribbean cocktail ingredient that has warm, spicy notes, according to Food & Wine. You can also try mixing up your own homemade ginger ale for a tasty treat. Plus, since Halloween does fall in the middle of fall, it's fun to take advantage of seasonal ingredients, like apples, cranberries, and cinnamon.
To make your drinks extra spooky, stock up on fun garnishes like fake spiders, floating eyeballs, or dry ice for presentation. If you haven't perfected a hauntingly good cocktail recipe of your own, here are some drinks that will surely cast a spell on your guests. From a Harry Potter-inspired elixir to an apple cider champagne cocktail, these recipes will help you take your mixology skills to the next level. Now, drink up, witches!
This article was originally published on