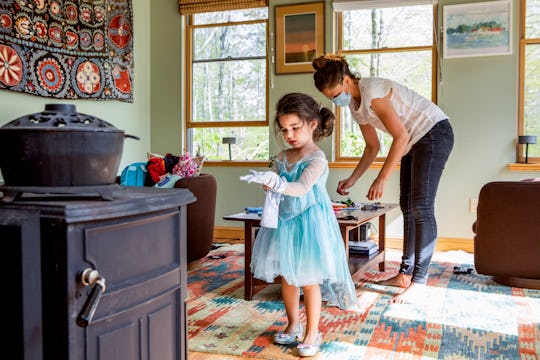 Catherine Ledner/DigitalVision/Getty Images
13 Kid-Friendly Halloween Costumes That Require Gloves
Everything these days is about reworking things in light of the pandemic. The Emmys were done via a giant Zoom, audience members on talk shows are now just big TV screens, and now, with the holidays rolling up, everyone needs to get creative in order to stay safe. Which is why I've rounded up Halloween costumes with gloves to help keep little hands protected this Halloween. (Because if the hands stay clean, then so does everything else.)
The CDC recently released guidelines for All Hallow's Eve, putting activities into three different categories: low risk, moderate risk, and high risk. Sadly, traditional trick-or-treating falls into the high risk category. It makes it seem like we should all just opt for Zentai suits and just stay on our couches.
But don't lose heart. That doesn't mean kids can't still dress up as their favorite characters or food item. I personally don't care if it ends up just being my son and I standing alone in our apartment, handing a single piece of candy corn back and forth to each other — my kid loves costumes, I love costumes, and we shall find a way to safely don severely over-priced plastic garments from Party City.
One possible way to help keep a kid's hands clean, so you don't spend the night chasing a little Pennywise with Purell, is to choose a costume that already requires gloves. There are a lot of options out there, but to help get the wheels turning, I've rounded up a few below.
Another costume complication? Masks. As in, the rubber masks kids love to wear with their costumes. Costume masks are not a great idea this year, as kids need to be in regular, protective face masks. And a mask on top of a mask could make it difficult to breathe. Luckily, there are loads of face masks that can be worn as costumes. Which I also took into account in the round-up below.
We only include products that have been independently selected by Romper's editorial team. However, we may receive a portion of sales if you purchase a product through a link in this article.