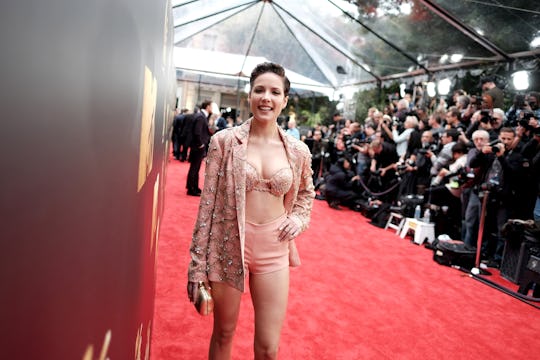 Jason Kempin/Getty Images Entertainment/Getty Images
Halsey Performs At MTV Movie Awards, & The World Falls In Love
It's hard to believe Halsey's first studio album, Badlands, was only released in 2015. The young singer has already made an indelible impression on fans as a savvy, unique, fashion forward performer who doesn't shy away from the spotlight. And just in case anyone was unclear about whether or not she can handle herself in the crazy world of Hollywood... please see Halsey's performance at the MTV Movie Awards on Sunday as Exhibit A.
Halsey performed her song "Castle," which was featured on the soundtrack for the new movie starring Chris Hemsworth and Jessica Chastain, The Huntsman: Winter's War. The young singer sang in a smokier, darker voice than fans might be used to hearing from her. Introduced by Hemsworth and Chastain, Halsey emerged in a teeny tiny white bodysuit to perform in a virtual snowstorm that totally suited the wintry theme of the song and movie. Although the song "Castle" was initially released on her Badlands album, it was perfectly clear why it would have been chosen for The Huntsman: Winter's War. The movie is about two sisters waging a war to rule their domain, and watching Halsey own the stage even when accompanied by a small choir and an orchestra, it seems to me the girl knows a thing or two about what it means to rule.
The crowd (and the Twittersphere) went wild.
Halsey broke onto the music scene back in 2014, with her wildly popular Youtube covers of stars like Taylor Swift and Justin Bieber. The New Jersey-born, electropop singer (whose real name is Ashley Frangipane) has a varied taste in music and is not a fan of the word "genre", as she told Rolling Stone.
Genre in 2016 is just absolute bullsh*t. Half the records on hip-hop radio are pop records at their core, and half the records in f**king alternative radio are pop. And pop radio doesn't even know what the f**k it's doing. I end up pleading my case to alternative programmers — you're telling me that my music is too dark for pop, too pop for alternative, and urban radio won't touch it — so we have a record that doesn't fit in. And what is more alternative than that?
She's not much of a fan of being told what to do either, if her "Castle" lyrics are to be believed.
I'm headed straight for the castle
They wanna make me their queen
And there's an old man sitting on the throne that's saying that I probably shouldn't be so mean
I'm headed straight for the castle
They've got the kingdom locked up
And there's an old man sitting on the throne that's saying I should probably keep my pretty mouth shut
One thing's for sure; after tonight's performance at the MTV Movie Awards, it's doubtful anyone out there wants Halsey to "keep her pretty mouth shut".