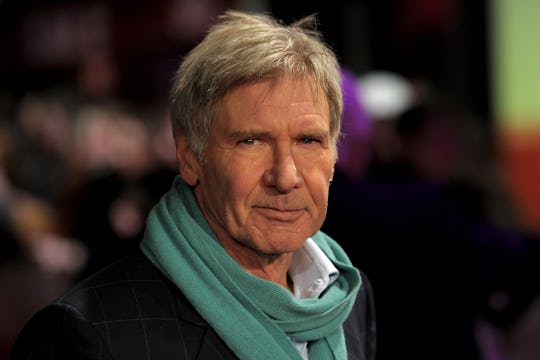 Harrison Ford Surprised Fans At A 'Star Wars' Screening, & 4 Other Times He's Shown He's Psyched About 'The Force Awakens'
At a special Star Wars: The Force Awakens screening for fans in Sydney, where they got to watch 10 minutes of the sequel, there was an even bigger surprise sitting in the audience: Harrison Ford surprised fans at a Star Wars screening by sneaking in during the preview. He remained inconspicuous during the screening itself — if we had a shot at only 10 minutes of the new film, we probably wouldn't be looking about for latecomers sneaking in, either — but stood up when a spotlight shone on him at the end of the film.
He promised fans that there was plenty more where those 10 minutes came from, and asked them to keep mum about what they'd seen. "Let's make a deal — don't tell your friends what you've seen here today," he told them. Lucasfilm and Disney have attempted to keep The Force Awakens' plot under wraps, and though rumors abound and the actors have been doing the press circuit, the film has largely remained secret.
This isn't the first time Ford has shown he's psyched about returning to Star Wars, and fans are loving it.