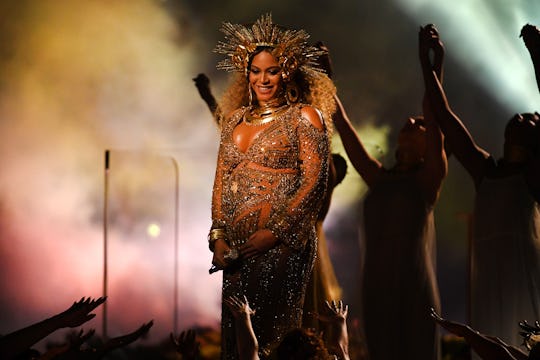 Kevork Djansezian/Getty Images Entertainment/Getty Images
Has Beyoncé Given Birth Already?
It's undoubtedly an exciting time for Beyoncé fans. Ever since Beyoncé announced she was pregnant with twins, her diehard disciples have wanted to know anything and everything about her second pregnancy. Although Beyoncé has shared a lot of baby bump photos on Instagram, she has been less transparent about her due date. Now that the first week of June is coming to a close, fans are ruminating over the current status of Beyoncé's pregnancy. So, has Beyoncé has given birth already? If you fancy yourself a conspiracy theorist, you'll be happy to know the Beyhive has already investigated and come to a conclusion on this burning question. Beyoncé's representative didn't immediately respond to Romper's request for comment regarding fan theories that she has already given birth.
If you know anything about Beyoncé fans, you know that they're super sleuths. It's no shock Beyoncé's most dedicated admirers have dug deep into the current status of her pregnancy, even going as far to analyze her latest Instagram photos to present a very detailed case proving she has allegedly given birth. Not to mention fans have also compiled a few additional coincidences to cement their findings, because the Beyhive is super detailed like that. Needles to say, Beyoncé's fans are convinced she has already given birth to her babies.
Exhibit A: Beyoncé's Memorial Day Photo
On Memorial Day, Beyoncé posted a cute shot of herself and daughter Blue Ivy embracing. Although this photo might seem innocuous to many, Beyoncé fans couldn't help but claim that Beyoncé's baby bump is smaller than the bump she sported at her baby shower on May 20, just nine days prior to the snap in question.
Here's the baby shower photo for comparison:
Although you can come to your own conclusion about the two opposing baby bumps, Beyoncé fans think the Memorial Day photo was shared to throw off her fans.
One fan said of the picture:
psbabydoll: Quit playing @beyonce reveal the twins now 😂.
Another fan said:
kelsysweeny: I feel like she's had the twins. I don't know why I just have like a sense hahahaha a BeySense.
"BeySense," indeed.
Exhibit B: Solange Knowles Cancels Concert
On May 25, Solange canceled a concert in Boston scheduled for May 26. The cancelation was last minute and it left many allegiant fans upset. Considering Solange takes her music career very seriously, it caused fans to be suspicious about the real reason behind the cancelation. Disappointed attendees also found it odd that Solange blamed "production drama" as the cause for bailing.
Unsurprisingly, a lot of fans were not buying Solange's excuses. Rule one of the Beyhive is to question everything until proven otherwise.
Exhibit C: Crimped Hair
Some of Beyonce's fans should consider careers in law enforcement — their penchant for sniffing out supposed clues is incredible. On May 3, Beyoncé posted a gorgeous picture of her crimped hair, a departure from her glossy waves at the Inaugural Wearable Art Gala in Los Angeles on April 29.
Following the crimped hair look, Beyoncé switched it up again with long braids.
If you're still following this hair timeline, fans pointed out Beyoncé's hair in the Memorial Day photo is the same as her May 3 look. The Beyhive speculates Beyoncé's Memorial Day picture is actually a throwback intended to once again throw fans off her trail.
According to EliteDaily, one suspicious user on a fan forum said:
dead @ her constantly uploading old pics trying to throw us off.
Hmm, does Beyoncé really keep an arsenal of old photos to divert fans from the truth? Only time will tell...
Exhibit D: Tina Knowles Allegedly Spotted At Los Angeles Hospital
On May 20, a fan shared a picture of Tina allegedly at a Los Angeles area hospital. Although there's no real way to confirm if this is in fact Tina, fans are using it as another piece of evidence in their theory that Beyoncé has already given birth. The problem is, if Solange allegedly canceled her May 26 concert to see Beyoncé give birth, then what is Tina doing at a hospital six days before? If the photo in question is of Tina, then it's totally possible she was there visiting someone else or even receiving treatment for an ailment of her own. Until Tina speaks out, there's no way to know any truths about this photo.
Although some props must be given to the Beyhive for their incredibly detailed internet sleuthing, there's no way to know if Beyoncé has given birth until she or someone from her camp confirms it. At this point, one can only hope that Beyoncé's delivery goes successfully or has gone successfully. The most important thing right now is Beyoncé's health and the well-being of her babies. Beyoncé will announce the good news when the time is right — it's ultimately, and rightfully, up to her.