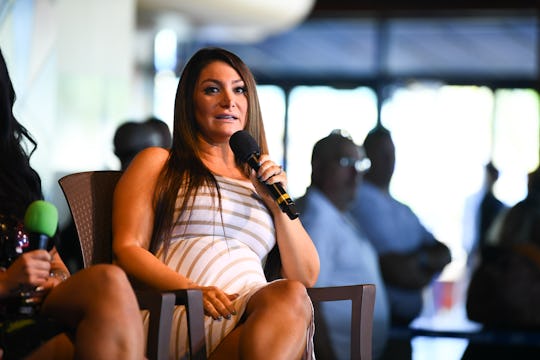 Dave Kotinsky/Getty Images Entertainment/Getty Images
Here's When Deena Cortese's Baby Is Due
Deena was the only female cast member going into Jersey Shore Family Vacation who hadn't become a mom yet, but as of this year, all that changed. Deena and her husband Chris Buckner announced that they were having a baby on Instagram on July 2, but fans who are eagerly awaiting a baby meatball may be wondering: has Deena Cortese given birth yet? According to the announcement post, she's due in December.
"December can't come soon enough! Daddy and Mommy can't wait to meet you Christopher John," she wrote in the caption, revealing both the baby's gender and name. (You think she's excited?) Added Deena, "You are going to be the most spoiled little boy ever!!!!" Uh, that seems clear.
The announcement photo was firecracker-themed to coincide with the Fourth of July and taken on a shore boardwalk, natch. She posted well into her second trimester, saying she and Chris were waiting to make the announcement until they felt ready. Two days later, she posted her first bump progress pic at 14 weeks. It was a pretty modest bump, but she flaunted it in a bodycon dress to spruce it up, promising, "don't worry I won't post bump pics every single week! Lol but this is the first!!"
Deena also posted the reaction vid from the couple's gender reveal party, which yes, involved a blue smoke bomb, but luckily, no one got hurt. Chris' reaction is pretty hilarious and Deena even wrote in the caption, "Chris' reaction was everything!!!!"
Chris dutifully posted photos from the announcement shoot on his Instagram, too, writing, "Thank you everyone for all the love! We are finally starting the family we've always wanted and youre [sic] the only one I want to share this blessing with. Love you babe."
Deena's been showing off her bump ever since, from the red carpet at the VMAs to (just a few) more bump progress pics in the same blue bodycon dress she started tracking it in. She seems super excited to share details of her pregnancy with her fans, so I don't think we're in any danger of Deena choosing to be a super private mom and hide the baby away from her loyal followers once he comes.
She's also been sharing a fair number of bittersweet sentiments commemorating her dad, via posts expressing that her baby is like a gift back from the universe. "I've always believed a babies soul meets passed loved ones before being born," she captioned a photo of a onesie that read "Hand picked for earth by my grandpa in heaven." The outfit came with a hat monogrammed with the name Christopher John and Deena added, "CJ knew and will always know my dad."
Jersey Shore fans got to watch as Deena announced her pregnancy to the roomies on Jersey Shore Family Vacation Season 2, and her castmates are already loving on her and the baby in the comments of her Instagram updates. It's pretty obvious that Baby CJ will have a huge circle of aunts and uncles waiting to dote on him.