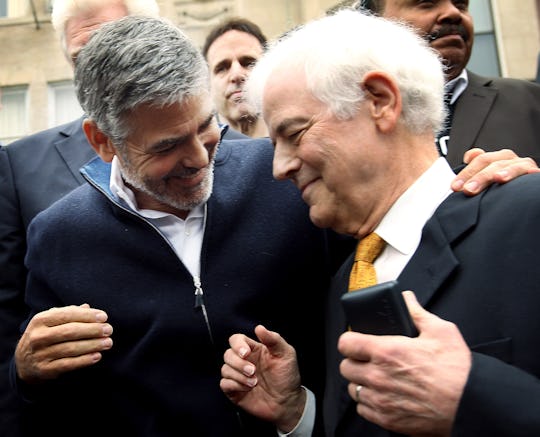 Alex Wong/Getty Images News/Getty Images
George Clooney's Family "Met" The Twins Over Skype
The Clooney twins have arrived at long last, and fans couldn't be more excited. It has felt like years since human rights lawyer Amal Clooney and her husband, actor George Clooney, announced they were expecting twins. Technically, it's only been since February, but still, it felt like a long wait. And if fans were excited, you can imagine how their families felt. George Clooney's family reportedly met the twins over Skype, because that's the reality of being grandparents to kids who are born across the ocean. So I suppose they had better get accustomed to it.
Clooney's dad, former news reporter Nick Clooney, spoke from the family's home in Kentucky on Wednesday about seeing twins Alexander and Ella Clooney. According to People, the 83-year-old new grandpa said:
They are gorgeous. Nina [Warren] swears they have George's nose. Not both of them, one of them. The little boy looked like he had [George's] nose. His little profile.
He added that he "loved their names Alexander and Ella. They both sound terrific."
The news outlet noted that Clooney's parents met the twins via Skype just hours after their birth on Tuesday, and that it was actually Amal Clooney who thought the Skype conversation would be a good idea. Nick and his wife, Nora Clooney, were able to gush over their grandchildren via to the wonder of the internet, which could account for why the older Clooney referred to his daughter-in-law as a "super woman" in his radio interview with Cincinnati's WXIX.
As for George Clooney, his publicist released a statement in the hours after the twins' birth that the family was doing fine, even if 56-year-old first-time dad Clooney had to "be sedated." (A joke, I'm fairly sure.)
The twins were reportedly born in London, according to E! News, thousands of miles away from their grandparents. While this might have made bonding difficult a decade ago, savvy grandparents all over the globe have learned that the ability to coo over their grandbabies is just a Skype conversation away. The Clooney grandparents are no different. Clooney gushed in his interview that "the babies are gorgeous" and that they both have dark hair. He was also able to report that both parents were doing "remarkably well."
So what will the Clooney grandparents do to bond with Alexander and Ella, who will reportedly be raised on their parents' estate in Oxfordshire (Amal Clooney's law practice is in London)? Despite the fact that Amal's mother, Baria Alamuddin, was on hand for the birth of the twins and remains in London, these grandparents are wise enough to wait for an invitation. Nick Clooney told WXIX Radio, according to Fox 19:
They have enough on their plate to have some visiting grandparents coming in to London. So we'll leave that one entirely up to them.
Grandparents who live great distances away are required to execute a delicate dance — staying close to their grandchildren while not driving the parents crazy, because visits tend to be longer and (let's face it) slightly more invasive than a quick drop-by.
It looks like Nick and Nora Clooney are already well-versed in this particular dance. Good for them.