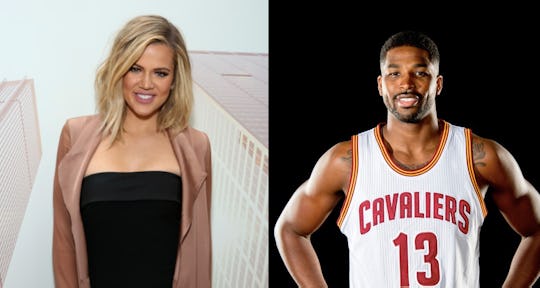 Jason Miller/Getty Images Sport/Getty Images/
People Want Khloé To Respond To Tristan's Alleged Cheating, But She Doesn't Owe Anyone An Answer
Khloé Kardashian is within striking distance to the end of her pregnancy. Within days, she should be welcoming a little baby girl, something she has reportedly wanted for years. It should be an incredibly exciting time for her, just doing a little nesting in Cleveland, where her boyfriend Tristan Thompson plays for the Cavaliers. Hanging out, watching Netflix, going for walks. Instead, rumors that Thompson has allegedly been unfaithful have been spreading like wildfire across the internet. While many are hoping the alleged reports are untrue, her fans are wondering if Khloé Kardashian has responded to Tristan Thompson's alleged cheating.
Several news outlets have reported that Thompson was allegedly seen getting close to a woman in New York City on Saturday night. The Daily Mail originally reported that Thompson, who was in the area for a basketball game, was allegedly caught on camera kissing another woman. TMZ also shared a video that reportedly showed Thompson and the woman allegedly going into a hotel room in the early hours of Sunday morning. Romper's requests for comment from both Kardashian and Thompson's teams were not immediately returned.
As news of Thompson's alleged cheating takes over social media, people have taken to Twitter to see if Khloé has said anything in response to the rumors.
At this point, it's not known how much of these reports should be taken as truth or how much are just nasty rumors. And Khloé has yet to say a thing publicly about the rumors circulating about the father of her baby girl, who will be born any day now. Her most recent posts on Twitter on Tuesday were about National Siblings Day and watching little sister Kylie Jenner give birth to baby Stormi Webster back on Feb. 1.
Despite the fact that some people seem to be desperate for her to respond to the rumors out of, what? Morbid curiosity?
The truth is, Khloé doesn't owe anyone a response. She doesn't owe anybody a sad face, or an inspirational quote about surviving a difficult times, or even a defense to the rumors circulating. She owes it to herself to unplug and focus on one of the most important things she will ever do in this life; delivering a healthy baby.
Which is reportedly exactly what she's doing, as a source close to the Kardashian/Jenner family told Us Weekly. "Khloé is focusing on delivering a healthy baby. She doesn't want to deal with any of these rumors regarding Tristan kissing another woman," the source told the publication.
After four years of struggling with infidelity with her ex-husband, former NBA star Lamar Odom, as Us Weekly reported, the last thing Khloé needs is to become embroiled in another cheating scandal, especially when she's just days away from delivering her first baby. She relocated to Cleveland recently, as she planned to give birth there where things were less hectic for her than her busy life in Los Angeles. And her plans to give birth in Cleveland with her mom and sisters flying in to support her has not changed, as a source close to the family told Us Weekly, "It's too late in the pregnancy for Khloé to fly back to L.A. right now. Even on a private jet with a doctor on board."
Whether the rumors about Thompson allegedly cheating on Khloé are true or not, hopefully this first-time mom is able to shift gears and stay focused on bringing her baby into this world. Everything else, all the social media chatter and the nasty comments and the fascination people seem to have, will wait. Or even better, fade away and give Khloé, a woman who has been so adorably excited throughout this pregnancy, her moment in the sun as a new mom. Instead of making it all about scandal.