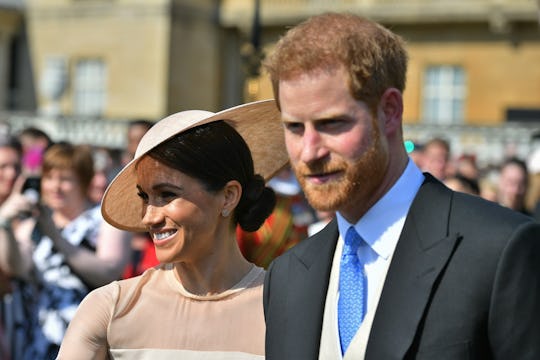 WPA Pool/Getty Images Entertainment/Getty Images
Meghan Markle's Dad Missed The Royal Wedding, But Has Prince Harry Met His Father-In-Law?
Although he wasn't at the royal wedding, Meghan Markle's father drove a lot of conversation about the day. Ahead of the ceremony, according to Cosmopolitan, Markle's dad had a heart attack and reportedly staged pictures of himself for paparazzi, so people assumed he and his daughter were on the outs. But has Prince Harry met Meghan Markle's dad since the wedding?
So far, Prince Harry has not met Markle's father, so the wedding would have been the first time. To make up for it, royal insiders recently told Entertainment Tonight that the couple might hit up Mexico, where her father lives, before heading off on their honeymoon later this summer. (The couple has postponed their honeymoon due to some royal obligations that they need to be around for, according to Reuters.)
Royal expert Katie Nicholl told Entertainment Tonight, "I hear one of the things they want to do sooner than later, and now that they're married, is to go and see Thomas Markle, who is recovering from a heart operation. We don't know when this trip might happen.... I'm hearing from people close to Meghan and Harry that they're very keen to do it."
Nicholl added that Markle has reportedly been worried about her dad's health and that Prince Harry was itching to meet his father-in-law, which sounds reasonable enough. However, the stories surrounding Markle's dad keep changing, so it's tough to know what the newly married couple will really do.
Thomas Markle was supposed to go to Windsor to walk his daughter down the aisle, until he had a heart attack just a week before the wedding, according to TMZ. The outlet, which had broken the story, reported that the heart attack had done some damage and that he had to have heart surgery just days before the wedding. He told TMZ that he was going to the hospital on the Wednesday before the wedding. "They [doctors] will go in and clear blockage, repair damage and put a stent where it is needed," he said.
Previously, he had canceled his trip for his daughter's nuptials after it was reported, by TMZ again, that the older Markle had allegedly signed a deal with a paparazzi agency to stage those pictures of him "studying up" on England that circled the internet leading up to the wedding. The duchess' half-sister Samantha, who spoke to various media outlets about feeling "snubbed" by her estranged sister, told TMZ that Markle's father only received $1,500 for the pictures.
Despite all of the various reports about Markle's family, there doesn't seem to be any bad blood between her and her father. As ELLE reported, the duchess released a statement last week:
Sadly, my father will not be attending our wedding. I have always cared for my father and hope he can be given the space he needs to focus on his health. I would like to thank everyone who has offered generous messages of support. Please know how much Harry and I look forward to sharing our special day with you on Saturday.
CNN reported that Markle's dad was doing well after the surgery. "I'm OK. It will take a long time to heal. Staying in the hospital a few more days. Not allowed to get excited." He added, "I hate the idea of missing one of the greatest moments in history and walking my daughter down the aisle."
Mr. Markle, who worked as a lighting director, met Meghan's mother Doria Ragland back in the 1970s. The couple split up when Meghan was young, according to The New Yorker. Although it was surprising to some that the former actress walked most of the aisle by herself, others were impressed with her independence. Others also cheered for her mother, Doria, who was the only member of Markle's family in the chapel.
So who knows what really went on behind the scenes concerning Markle's father and his absence from the wedding (TMZ spotted him grabbing a Frappuccino from Starbucks a few days after his alleged surgery, which also sounds odd.) Hopefully he's healthy and happy. And Prince Harry and Markle can visit him in Mexico if they want to this summer. Even a prince has to deal with in-laws, right?