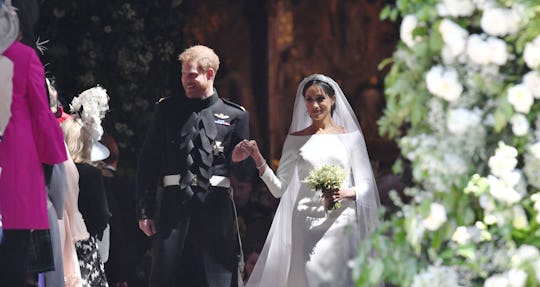 WPA Pool/Getty Images Entertainment/Getty Images
Meghan Markle's Sister Has Responded To The Wedding & It's Surprising Some
For the past few months, the entire world was happily preparing for Prince Harry and Meghan Markle's wedding day. Except for some of Markle's family, who reportedly felt snubbed for not getting an invite to neither the wedding or the reception on Saturday. But Meghan Markle's sister's response to the royal wedding might be the most surprising of all.
Markle's estranged half-sister Samantha, 53 years old, has been speaking publicly about the bride and the royal wedding since the engagement was announced, and it hasn't all been very nice. On Saturday, she and her partner told TMZ that they planned on hosting a viewing party for the wedding, complete with off-duty cops for extra security. However, The Daily Mail reported that on Saturday morning, there was allegedly just one single television broadcast truck outside of her Florida home.
Samantha's husband, Mark Phillips, told the outlet that she was doing an interview on the royal wedding and was reportedly earning at least five figures for the appearance. "You can't go in there. She is making big money with an exclusive TV interview," he told the outlet, though he didn't specify the network.
He added that he and his wife have been hounded by media in the lead-up to the royal wedding. Phillips said, I''m taking her next week where nobody knows us. We haven't slept in day[s]. We haven't been in peace. There have been more paparazzi at the house than I have neighbors. It's been a constant hassle."
It very well might have been a busy week for Samantha and her husband, as she's been speaking to various media outlets about her estranged half-sister, even going on Good Morning Britain to do an interview with Piers Morgan this week. She spoke to Morgan about her father, Thomas Markle, who had allegedly staged photos for the paparazzi leading up to the wedding and then suffered a heart attack last week.
Samantha claimed that the stress from all the media attention caused his health condition. She told Morgan:
He wanted peace and quiet. He was avoiding the media. He hadn't spoken with the press and was doing just that. But when he called me panicking on the freeway because he's in a dangerous situation, being followed by seven or eight cars…I think there have been examples in history of how dangerous that can be.
She added, "He was so stressed out; they rented the house next to him in Mexico, four or five of them. He can't open his blinds. He can't go anywhere without being followed, and really, it's quite atrocious and intrusive—and I think it's highly unethical." Samantha also told TMZ this week that she had reportedly broken an ankle after getting in a car crash trying to avoid a photographer, though there hasn't been any confirmation from a third party about her injuries. Her claims about paparazzi putting her and her family in dangerous situations seem to allude to the 1997 car crash that killed Princess Diana.
Prior to slamming the media for reportedly hounding her and her family, Samantha had tweeted, according to The Sun:
Out of respect and humanitarianism, the Markles should be invited if 2,000 complete strangers are. Our uncle, brother, me, best friend of 30 years, nephews. Our issue is not a matter of closeness. Family is family.
She also tweeted to Prince Harry that it was a contradiction for him to talk about his humanitarian efforts and then not invite his wife's estranged family to their wedding. Last year, she also announced that she was writing a tell-all book about Meghan Markle called The Diary of Princess Pushy's Sister, though there's no release date set.
It sounds like a lot of drama, but hopefully Meghan was able to enjoy her day despite it all.