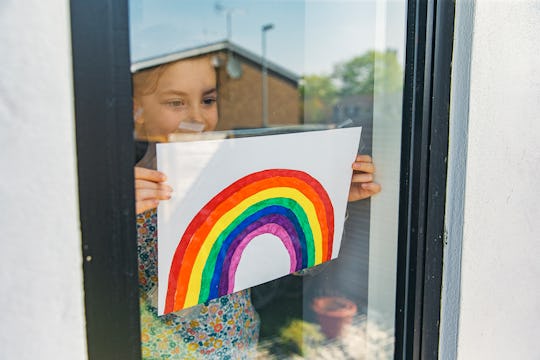 Justin Paget/DigitalVision/Getty Images
Have A Pride Parade At Home With These Fun, Easy Ideas
Pride is going to look a little different this year. No huge parties, no parades, no movie screenings or beach barbecues — but for all the queer families out there celebrating, we can still make this Pride special. Figuring out how to have a pride parade at home will be tricky, but it will also be a lot of fun.
If you're fortunate enough to live in an area with a large gay community, you might be able to organize a driving parade that will go past housebound queers, young gay people with less access, and the general community of fun-havers at large. However, if you live somewhere this might be difficult or even dangerous to contemplate, first of all, I am sorry that you are not able to do so. That is unfair and wrong. You are beautiful, our community is beautiful, and next year, Pride will be a real rager. But you might consider simply decorating your house, making the gayest cupcakes you can (and yes, I am fully aware at how redundant the phrase "gay cupcakes" is), and break out the Shera costumes you wore for Halloween, because it's about to get real queer in your casa.
I've been going to Pride every year since I was 17 years old. To imagine a Pride without a parade, without fun femmes in glitter, SAGE elders passing out information, and a crew of Dykes on Bikes is almost unimaginable to me. But the queer community knows more than perhaps any other what one tiny virus can do when it runs through people unchecked. That's why without a second's hesitation, Pride organizers across the world said, "Not this year." So we're going virtual. We're all celebrating in our own homes, in our own ways, and to have a Pride parade at home is the best, kindest, and most radical thing we can do.