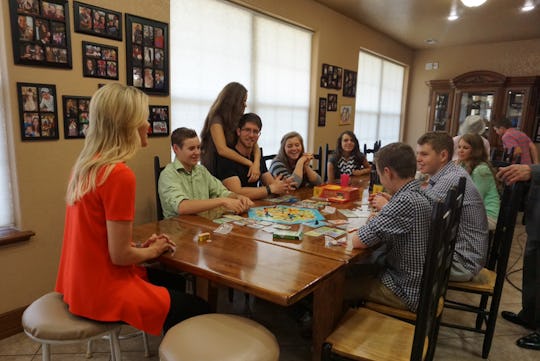 Handout/Getty Images Entertainment/Getty Images
These Are The Duggars Who ~Rebelled~ From Their Parents' Strict Rules
Growing up, my family thought of me as the rebel. When I look back on my upbringing, though, I can't help but laugh at such a label. After all, my family was and still is pretty liberal. Breaking the rules doesn't really have the same effect as, say, a Duggar family member kissing on the lips before their wedding day or wearing pants instead of long skirts. But that analogy had me thinking: Have any of the Duggars rebelled from their upbringing? Turns out, sort of.
Out of all the Duggar children, Jinger Vuolo seems to be the most rebellious by conservative standards. In March, paparazzi photographed the 23-year-old daughter wearing shorts, according to AOL. Although to most of us, women wearing shorts or pants is no big deal, it's a major violation of one of the Duggar family rules: If you're a girl, you must wear ultra-conservative skirts or dresses. There are no exceptions.
But Jinger has been breaking the strict "no pants" dress code since she married former pro soccer player Jeremy Vuolo last November, according to the Hollywood Gossip. The Counting On star has been photographed a few times wearing form-fitting jeans over the last year, including when she went target shooting, inTouch Weekly reported.
Not that her soccer player husband minds. According to the Hollywood Gossip, Vuolo had said of the rule,
It is your liberty as to whether you dress modestly with a modest pair of pants, or with a skirt, or with a T-shirt, or with a blouse.
That's not the only way Jinger has rebelled against her upbringing. According to inTouch Weekly, fans speculate that the 23-year-old Duggar family member may be using some form of birth control, which would go against her parent's extremely conservative views on family planning. Why would Counting On viewers believe Jinger and her husband are using birth control? As inTouch reported, the couple have been married for a while now and have not had any children or announced a pregnancy. To one fan, that's "a long time in DuggarLand to still have no children on the horizon," according to inTouch.
Then there's the matter of the courtship rules. According to the Hollywood Gossip, Jinger had push the boundaries of the Duggar family rules during the courtship phase with her now-husband. Family matriarch Michelle Duggar had once complained on an episode of Counting On last October that Jinger and Jeremy Vuolo were a bit more affectionate than she or patriarch Jim Bob felt comfortable with, the Hollywood Gossip reported.
Never mind that sister Jill posted a photo of Jinger and Jeremy on Instagram last August that had fans riled up. The couple, then engaged, embraced each other in what some fans felt was "more than a side hug," according to SheKnows. And, as fans of Counting On and the Duggar family know, any hug that's not a side hug is prohibited during the courtship phase, particularly for the girls.
But Jinger is not the only "free spirit" among the Duggar children. Many fans have considered oldest daughter Jana to have "rebelled" against her upbringing because she has yet to marry, while her younger sisters are pairing off. Plus, according to Radar Online, rumors have it that the 27-year-old Duggar has found a suitor, but the suitor may be a bit more liberal than the conservative Duggar family and has different views on courting.
Of course, none of these rule violations really amount to rebellion. But for an ultra-strict, ultra-conservative group like the Duggars, any action that pushes the boundaries may be seen as a flagrant violation of authority, but it's not rebellious in a law-skirting, dangerous way.
Watch Romper's new video series, Romper's Doula Diaries:
Check out the entire Romper's Doula Diaries series and other videos on Facebook and the Bustle app across Apple TV, Roku, and Amazon Fire TV.