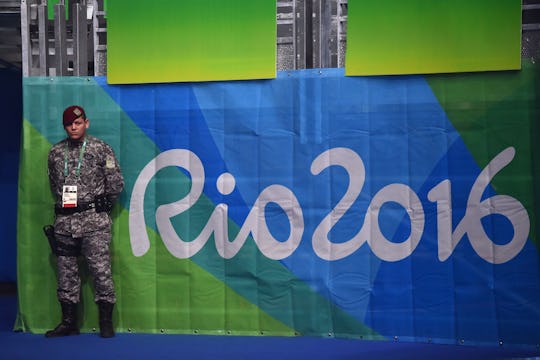 YURI CORTEZ/AFP/Getty Images
Have Any Olympic Athletes Caught Zika? Rio Officials Have Put Prevention First
It's every athlete's dream (and even some of us non-athletic types might have harbored a secret fantasy or two): heading to the Olympics. It's the end goal, the Holy Grail, the reason Olympic athletes train so hard and, more often than not, sacrifice so much. But this year, at the 2016 Olympics in Rio, many Olympians were worried they might get more than they bargained for; after all, this has been the Year of Zika. The threat of the dangerous virus scared off more than a few Olympians, but have any Olympic athletes actually caught the Zika virus?
According to Marcelo Patricio, the deputy chief medical officer at the giant polyclinic located inside the Olympic Village, doctors have been run off their feet with athletes visiting; but the visits tend to be from athletes from underdeveloped countries who don't have proper medical care rather than from athletes worried about Zika. While the clinic has reportedly performed more than 1,000 dental checks and 1,730 eye exams, as well as handing out 1,410 sets of prescription glasses, there has yet to be a single case of Zika. Although Daurio Speranzini Jr., a GE employee who oversees its Latin America operations, does report that the clinic's MRI machine is getting plenty of use. He told USA Today;
Those athletes from emerging countries, they really need it. I don't expect this kind of request from a U.S. guy or a U.K. guy, because they have access to this kind of technology. But in Africa, for example, few countries have this.
The fact that there have been no reported cases of an Olympic athlete contracting Zika is obviously a huge relief. Before the Olympics began, there were concerns about whether it would even be safe to hold the Games in Rio this summer because the city is essentially at the epicenter of the outbreak. As of April, there were 90,000 reported cases of Zika in Brazil, with one in four of those cases in Rio. The Zika virus, which is contracted primarily through the bite of an infected Aedes variety mosquito, can be an especially serious concern for women who are pregnant or planning on becoming pregnant. The disease (which can also be sexually transmitted by an infected male) can cause microcephaly in newborns, a neurological disease where the brain does not grow to full size and thus causes a host of developmental issues.
While there is no vaccine for Zika, the Olympic athletes have been taking precautions. According to Al Jazeera, the South Korean Olympic Team has uniforms that cover athletes from head to toe, and the Australian team was supplied "Zika-free" condoms. Hanna Melonz, a British sailing athlete, told Al Jazeera,
We take mosquito repellent and we're sensible in daytime with what we wear. We also don't plan on getting pregnant very quickly.
There could be a few reasons the athletes have not contracted the Zika virus; the organizers for the Olympic Games took precautions to protect the competitors and the mosquito population is relatively low at this time of year as August is winter in Brazil.
Whatever the reason, let's cross our fingers that the good luck continues. Nobody wants the athletes to bring home a case of Zika along with their medals.