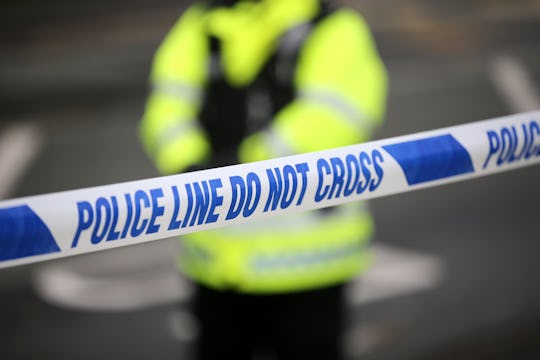 Have The San Bernardino Shooters Been Caught? The Urgent Question Everyone Is Asking Right Now
Update: According to officials, two of the suspected San Bernardino shooters are dead following a shoot-out with police, and one of the suspected shooters is a female. Late Wednesday authorities identified the suspects killed as Syed Farook and Tashfeen Malik, the woman, and said they had been in a relationship. Farook was a U.S. citizen and an employee of the of the San Bernardino County Health Department. Further details about Malik are not yet known. Police also detained a third individual at the scene, but it's unclear whether or not that person is connected to the shooting at the Inland Regional Center (where officials say they might have found an explosive device).
In a press conference earlier, the San Bernardino Police Department Chief Jarrod Burguan confirmed that up to three people opened fire at Inland Regional Center, leaving upwards of 14 people dead, with at least 21 additional people injured. At the time of the press conference, law enforcement was still clearing the scene, and the search for the suspects was ongoing.
Earlier: At around 2:15 p.m. EST, at least three shooters in San Bernardino, California is reported to have killed at least 14 people (and injured at least 14 others). While the situation is still unfolding and information is still coming in (and is largely unconfirmed at this time), one pressing question is on everyone's minds: Have the San Bernardino shooters been caught? With reports coming in that 20+ people were shot, the question of whether or not the shooters — more than one, and probably three individuals, according to most accounts at this time — have been caught is a huge one... and an unanswered one.
At this time, the building is being cleared, but it seems authorities have yet to locate the shooters. There are reports that the suspects have left the scene of the shooting in a black SUV. And authorities have confirmed that the suspects have not been taken into custody.
Developing...
Image: Christopher Furlong/Getty Images