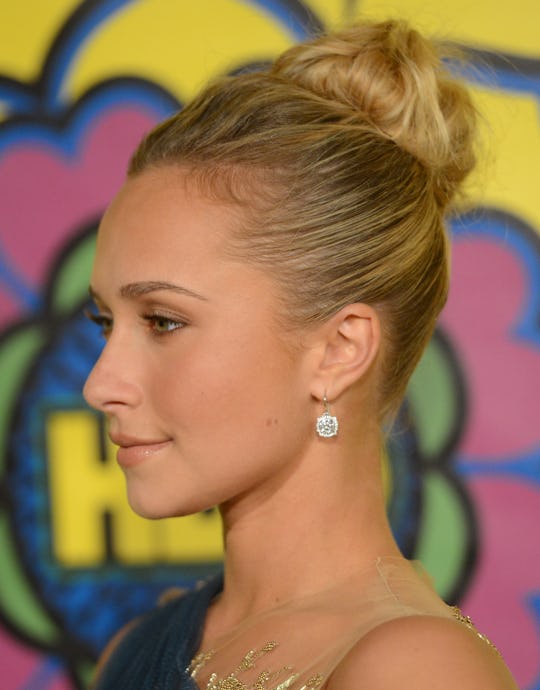 Michael Buckner/Getty Images Entertainment/Getty Images
Hayden Panettiere Says Motherhood Is About Knowing Limits, & It's Wise Advice For Anyone
Becoming a mom changes everything. Yes, we already know this. All of the things you thought you could do... it turns out sometimes you just can't. Just ask Nashville star Hayden Panettiere, who became a mom two years ago. Panettiere opened up about motherhood and knowing your limits as a parent recently, and her sage advice to give yourself a break is crazy wise beyond her years.
In an interview with People, 27-year-old Panettiere talked about her new reality with 2-year-old adorable daughter Kaya Evdokia and husband, Ukranian boxer Wladimir Klitschko. The singer/actress struggled after daughter Kaya's birth and underwent treatment for postpartum depression in May; At the time, she told People:
You can't even remember where you felt good. You try and think back to when you felt good, when you felt positive, when you felt happy, and you can't. All you see is enveloping darkness.
She was also open about the painful decision to undergo treatment, telling Yahoo:
I was always so terrified that people weren't going to accept me. I finally just went. I'm tired of living afraid. I'm tired of living in fear of what people are going to think.
Ultimately, though, Panettiere came to the realization that it was "okay to ask for help" and came to understood that one true thing about becoming a mom. "You feel mommy guilt — it's for real," she said.
Like most of us, Panettiere is learning to carve her own path as a mother as she goes. And for her, that path means actively choosing to acknowledge her limits. When she was asked by People if working on Nashville has inspired her to record music again, Panettiere replied:
It has, but juggling my workload and being a mom right now is plenty. I've figured out my own limits over the years, and music is a bridge that I might want to cross when I can truly dedicate myself to it.
Allowing yourself to accept and even embrace limits is an integral part of not just succeeding as a parent, but actually enjoying being a parent. Because that's the whole point, right? Parenting is actually supposed to be fun sometimes. And the other integral element of parenting Panettiere discovered makes all the difference? Finding your people.
"Now [that] I'm the mother of a 2-year-old, I've found my pack of solid, loyal, lifelong friends here and am settled into a beautiful routine," she said.
Two-year-olds are great company and everything, but at the end of the day it's those great mom friends who truly keep you going.