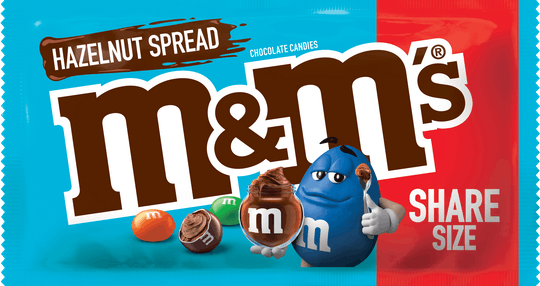 Dear Nutella Lovers (AKA Everyone), You're Going To Fall In Love With These New M&M's
Let me tell you a story: I am 30 years old, mother of two, and I still buy myself a candy bar almost every time I'm in the grocery store checkout line. And if I have to share with my 4-year-old? Then chances are I'm going to pick up a bag of M&M's — peanut butter if the store has it. But for my next grocery trip, I'm going to keep my eyes peeled because y'all, there are now Hazelnut Spread M&M's, and did I forget to mention that I'm also a 30-year-old woman that eats Nutella straight out of the jar?
M&M's are known for taking favorite flavors and textures and turning them into delectable treats (Pretzel M&M's anyone?), but this hazelnut spread may just take the cake. According to USA Today, Mars Incorporated announced on Tuesday that the newest flavor, Hazelnut Spread, will consist of the normal milk chocolate coating with "a center containing hazelnut spread." You guys. There are not enough drool emojis for me to adequately express how I feel about this right now. Basically Nutella wrapped up inside a perfect, classic M&M? There's now way I'm sharing these with my kid. She'd never understand the beauty of it.
The mega bad news? These delicious M&M's won't be available until April 2019. Total bummer, right? But the very thought should keep you happy until then. And for now, you can feast your eyes on the other new products M&M's released information about today: candy bars. People reported that in December, five varieties of M&M's candy bars will be released, just in time for all of your stocking stuffers (and holiday stress eating). The flavors will include some of your favorite M&M's flavors like milk chocolate, peanut, crispy, almond, and crispy mint. Yum. You guys, my body is ready.
If you're all a flutter with the thought of M&M's candy bars and Hazelnut Spread M&M's, same. But while you wait, it's time to start testing out all of your favorite M&M's recipes so you can be ready when the new items launch. Obviously the candy bars require little more direction than stuffing them into your mouth as fast as you can, but the Hazelnut Spread M&M's sound like they would be pure perfection in some baking recipes. There's everything to try from M&M's Blondies from Spicy Southern Kitchen to Boston Girl Bakes' M&M's Cookie Bars. Imagine the glorious taste of hazelnut spread mixed in with your favorite cookie or blondie recipe and the undeniably perfect crunch of an M&M. You guys — I could go on for a while.
Hazelnut Spread M&M's are also going to be available in several different sizes, so you don't have to worry about losing out on your first taste in 2019 when the stores run out. According to the press release, the candies will be available in a single 1.35-ounce bag, a 2.53-ounce share size, and an 8.3-ounce sharing size stand-up pouch. So basically, you'll want that last size, and I'm just going to assume you'll take a page from my book and refuse to share.