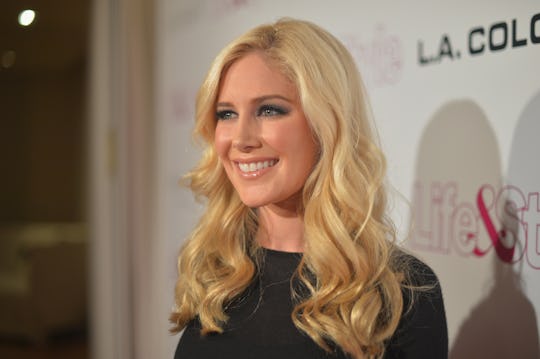 Charley Gallay/Getty Images Entertainment/Getty Images
Heidi Montag's Gets Honest About Pregnancy Weight Gain
Many moms-to-be feel like they'll never, ever stop gaining pregnancy weight, and that they'll never recognize their own bodies again. Turns out that The Hills star Heidi Montag is going through the same thing, and she's willing to document it for the world. On Monday, Heidi Montag's Snapchat about her pregnancy weight gain got honest — really honest — and it was super refreshing.
Montag and her husband, fellow Hills alum Spencer Pratt, headed off to the doctor for a seven-month check-up, and true to form, the reality TV queen turned the camera on. According to People, she narrated the somewhat surprising news that her doctor gave her about her pregnancy weight, saying in the video,
I've already gained 25 lbs.! I mean, no big deal, right? Just three more months to go at four lbs. a month. So I'll only gain about 40 lbs. or so, some women gain 25. I think I over-ate.
And later, according to E! News, Montag took a photo of the scale showing her new weight, and said into the camera,
I was just told I've gained as much weight as some women do in their entire pregnancy in seven months. 25 pounds—uh oh!
Of course, everyone knows that pregnant women gain weight. They have to. They are literally growing other humans inside themselves.
But the question of how much weight is the healthy amount to gain during pregnancy can often be a confusing one. Expectant moms who feel like their bodies aren't doing the right thing can be their own worst critics, while well-intentioned (or not) body-shamers make everything worse. Add in the pressure to magically and immediately lose the baby weight while dealing with a newborn on zero sleep, and the whole issue becomes an emotionally fraught mess.
Celebrities like Montag have it easier than the rest of us in some ways. After all, they can hire expensive trainers and help. But they also get to deal with soul-sucking tabloid coverage (remember all the Kim Kardashian "Nightmare" weight gain headlines?) and unflattering photos circulated for millions of people to judge. Websites documenting exactly how much Montag weighs are all over the internet.
So it's encouraging to see Montag dealing with her own changing body with good humor and openness, as she waits excitedly for her first child, a baby boy, to enter the world.
And it's helpful for other moms-to-be to remember, thanks to Montag's candid Snapchat, that they're not alone on their journey through the weird wonders of pregnancy.