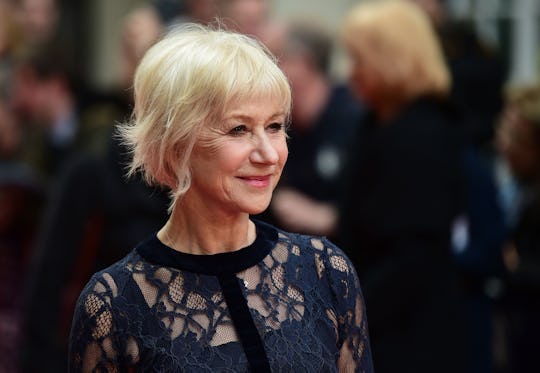 LEON NEAL/AFP/Getty Images
Helen Mirren Says Women Should Pursue Roles For Men & Lays Down The Feminist Hammer
Helen Mirren has mastered Shakespeare in the theater, belted out on Broadway, and delivered nothing short of a myriad of impressive roles on the big screen. It's easy to think she's already done it all in the entertainment world, but she's just tackled a new feat and wants her fellow women to do the same. In her new thriller Eye in the Sky, Mirren plays an army intelligence officer, a role originally written for a man. Beloved in the industry and by fans for her fierce attitude and independent demeanor, Mirren now says women should pursue roles for men — and her reasoning makes so much sense.
"You look at a scene and it's going to be all men around a table and you think at least half of those could have been women," Mirren said in an interview with the BBC. "It's so hard to get a job as an actress, let alone as a star but just a job. To be a working actress it's so much more difficult than it is for me."
Mirren pointed out the problems with all female roles, not only the starring roles but also those of extras and background actors.
"The only time that there is more women on the set as extras is a swimming pool scene and they're all in bikinis," Mirren said in the BBC interview. "Any swimming pool scene and suddenly it's full of women."
In Eye in the Sky, Mirren plays an army intelligence Colonel remotely commanding a top secret drone operation from London, attempting to capture a group of al-Shabaab terrorists from their safe-house in Nairobi, Kenya.
According to the BBC, the role was originally written for a man, but the film's producers changed the part to a women before it was offered to Mirren.
Mirren thought it was an "astute decision" to make that change because it's now opened up a debate about having a woman in that commanding role during modern international crisis our world faces today.
"The film is about the discussions people have when they leave the cinema and having a woman in that role allows you to make that discussion," Mirren said in the BBC interview.
Although it's difficult hurdle for women to get the roles they want in the entertainment industry, Mirren has encouraged actresses to seek out roles written for men and try their hand anyway. And why not? Other than the fact that women generally play whichever role they want and do the job well, it also generally opens up an entirely different discussion and storyline, than if the role were simply played by a man.
"As opposed to saying 'well that's men, that's what men do in war'," Mirren told the BBC, referring to her role in Eye in the Sky.
Sandra Bullock previously had a similar experience as Mirren: The actress' role as a political campaign manager in Our Brand is Crisis was reportedly written for a man — originally earmarked for George Clooney — but Bullock lobbied the producers until they gave her the part.
In an interview with Glamour last year about the role, Bullock said:
I did as my mother did: I put my blinders on and blazed forward. Sometimes you get a no. But I expect the no. I don't expect the yes. With this I got very nervous. I didn't know if George had made this for himself. But the response was "We're cool with it."
Gender-swapping is certainly not the norm in Hollywood, but it definitely doesn't hurt budding actresses try as it has the possibility of opening the doors to further women's representation the film industry. Sure, there will be roles that can only be played by a man or a woman, but for those can be swapped, Mirren's suggestion makes so much sense. Because if you don't try, you'll never know.