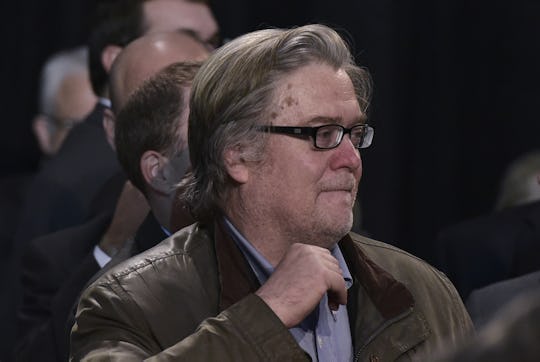 MANDEL NGAN/AFP/Getty Images
Here Is What Spanking Does To Children's Mental Health, Steve Bannon
I have been a mom for nearly 23 years. I raised four sons on my own, two of whom are already living out in the world being productive, non-sociopaths. I am no parenting expert, but my time in the trenches affords me a little leeway in the advice area, I think. And here is my theory on spanking: nope. Just nope. But what do I know? Why don't we let noted misogynist Steve Bannon weigh in with his theories on spanking? I'm sure whatever the former Breitbart CEO and Trump bestie might have to say on the subject will be enlightened, right?
According to an email exchange obtained by The Hill from December 2015, Bannon, who was recently appointed as president-elect Donald Trump's chief strategist in the White House, Bannon figures spanking is the best cure for mental health issues. He wrote to Breitbart's Washington editor Matt Boyle, who was hoping to share a story supporting Speaker of the House Paul Ryan's mental health reform plans; "I've got a cure for mental health issue[s]," Bannon reportedly wrote. "Spank your children more." Because that's the way it works, folks. Worried your child is suffering from a mental health issue? Just smack them around a little and it will work itself out.
Brace yourselves for the surprise of a lifetime, but studies have shown that spanking is actually worse for kids when it comes to mental health issues. According to a report in the Journal of Family Psychology, which took into account 50 years of data from over 160,000 children and 75 separate studies, spanking has been linked to aggression, behavioral issues, and antisocial tendencies.
Dr. Richard Besser, a pediatrician and ABC News Chief Health and Medical Editor, had this to say to Good Morning America about the study's findings:
There have been hundreds of studies done but one of the concerns is that a lot of the studies included more severe forms of physical punishment like hitting with an object. So here they looked at 75 studies where it was just spanking, so hitting on the bottom with an open hand. What they found was there was no long-term benefits from that and some potential long-term harm.
Luckily, many parents have realized that spanking is not the answer to dealing with a child's behavioral issues. In a study conducted from 1988 to 2011 recently published in Pediatrics, only 21 percent of parents with school-aged children resorted to physical discipline by the end of the study, compared to 46 percent at the beginning.
It's tough to know who to listen to in times like these; medical studies conducted over decades by multiple scientists and health care professionals or Steve Bannon, a man who was reportedly accused of domestic violence against his wife three days before she gave birth to their twins? (He ultimately settled the suit.)
My money is on the scientists.