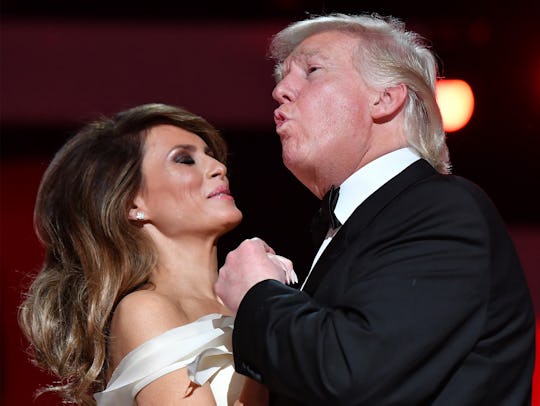 Pool/Getty Images Entertainment/Getty Images
Melania Furthered The Obama Birther Rumors
I have been feeling bad for Melania Trump. Ever since the inauguration, I've been a little worried about her (while simultaneously salivating over her entire weekend wardrobe). Because she is married to President Donald Trump, and I guess I was putting myself in her shoes. I would not like to be married to him, just in case he was thinking about asking, so I figured it must be hard for her. But just because she is married to someone that I personally disagree with does not mean that she doesn't have her own agency to some extent. And a clip of Melania spreading birther rumors about Obama proves that.
We all remember Trump making international news in 2011 when he insisted then-President Barrack Obama was not, indeed, an American citizen. Trump refused to accept that Obama was born in Hawaii, and demanded (loud and often) that Obama share his birth certificate. Obama acquiesced, despite the fact that his campaign had already released his birth certificate proving he was born in Hawaii in 1961. That didn't stop Trump from pushing forward with the birther movement, claiming in 2011, according to the Los Angeles Times:
I have some real doubts. I have people that actually have been studying it and they cannot believe what they're finding.
That same year, Melania Trump appeared on The Joy Behar Show and added her own voice to the birther movement.
When Melania appeared on the show, she spoke to host Behar about her husband's possible run for president (remember when that seemed like a silly dream?), as well as his prowess as a businessman. When Behar mentioned Obama's birth certificate, Melania said:
It's not only Donald who wants to see [Obama's birth certificate], it's American people who voted for him and who didn't vote for him. They want to see that.
She also asked Behar if she had seen Obama's birth certificate, and when Behar said sure, it was all over the internet, Melania was doubtful.
We feel it's different than birth certificate.
Why does it suddenly feel so important to call Melania out as a birther who supported her husband's dangerous, racist conspiracy theory? Because, as First Lady, she now has power.
A video of her at the inauguration that went viral had some people speculating on Twitter that she may be manipulated behind close doors. There is absolutely no evidence that Melania is a victim of abuse or manipulation (Trump's representatives have not responded to Romper for comment), but if she was, it would just be incredibly sad. Still, the sadness resulting from the video (even if the claims that sadness is rooted in are false) do not excuse her birther remarks.
Certainly nobody wants Melania to be put in a vulnerable position. But let's remember a few salient facts here. When her husband was heard bragging about how he could "grab women by the p*ssy" on tape, Melania shrugged it off. Said he was "egged on" into his silly little "boy talk." She attacked former People correspondent Natasha Stoynoff not for allegedly accusing Trump of making sexual advances against her, but because Stoynoff said she knew Melania. (Trump denied all of Stoynoff's claims, though his reps did not respond to Romper's request for comment.) Melania told CNN:
She wrote in the same story about me -- that she saw me on 5th Avenue, and I said to her, 'Natasha, how come we don't see you anymore?' I was never friends with her, I would not recognize her.
Melania is a 46-year-old white woman who actively chooses to defend her husband's actions, no matter what. While it's tempting to paint her with the damsel in distress brush, we have to stick with her history and video evidence of her actions and hold her accountable accordingly.