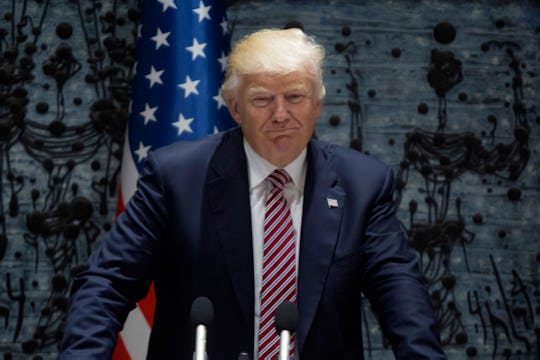 Lior Mizrahi/Getty Images News/Getty Images
All The Times Trump Said He Wouldn't Cut Medicaid
On Monday, White House sources teased President Donald Trump's plan to jeopardize the health coverage of 74 million Americans. Although Trump repeatedly promised to not cut Medicaid while on the 2016 campaign trail, his proposed budget plan will slash a whopping $800 million dollars from the program. If the president's plan succeeds, it will leave a devastating number of children, as well as disabled and elderly citizens, uninsured.
The proposed 2018 budget plan, which is set to be unveiled on Tuesday, comes on the heels of House Republicans' May 4 vote to repeal the Affordable Health Care Act. In these already uncertain and frightening times, Trump's budget comes as another blow to middle class and low-income families who depend on Medicaid to survive. What's even more upsetting is that the president assured voters this nightmare scenario would not happen.
Two years ago, on May 21, 2015, Trump told right-wing publication The Daily Signal:
I'm not going to cut Social Security like every other Republican and I'm not going to cut Medicare or Medicaid. Every other Republican is going to cut, and even if they wouldn't, they don't know what to do because they don't know where the money is. I do.
Trump even went as far to brag about his allegiance to saving Medicaid, tweeting that he was the "first & only potential GOP candidate" to pledge there would be "no cuts" to the life-saving program.
As if these proclamations weren't already enough evidence of the president's terrifying duplicitous nature, he first assured voters he wouldn't touch Medicaid in his initial announcement to run for office. According to TIME, Trump argued that he'd "Save Medicare, Medicaid and Social Security without cuts".
Trump's lies aside, here's a hard look at just how damaging $800 million in cuts to Medicaid would be.
Children
Medicaid covers about 75 percent of births for low-income families and 49 percent of births overall, according to the Kaiser Family Foundation. After birth, the program covers close to 40 percent of children across America. If a family's income is too high for these services, Medicaid has something called the Children's Health Insurance Program (CHIP), in which uninsured children up to age 19 get low-cost or even free health benefits.
People With Disabilities
Slashing Medicaid benefits will especially hurt those who have severe physical or developmental disabilities. Around 42 percent of Medicaid spending goes to those who depend on life-long care, according to the Kaiser Family Foundation. Without Medicaid, the families of these dependents will be responsible for covering their care, a scenario illustrated by Kathleen Kelly, the Executive Director of the Family Caregiver Alliance. If the proposed Medicaid cuts come to fruition, individual states would be forced to dramatically reduce services allotted to disabled citizens. In this case, working families would be forced to pick up the remaining expenses, which would obviously be very difficult. In Kelly's powerful op-ed, she presents a grim reality of families trying to thrive without a "safety net":
We talk with families daily who never thought they would need Medicaid services, but they have spent their life savings on caring for a family member. Even if you don't think you will need these services, it is important to retain them as a safety net for everyone, now and in the future.
The Elderly
Medicaid spends about 21 percent on elderly enrollees. A bulk of the funding goes to covering the costs of long-term care, a.k.a nursing homes, according to Kaiser Family Foundation. Considering nursing homes can be extremely expensive, cutting Medicaid funds will be disastrous to elderly citizens in need of shelter and care.
It's plain to see how the president's proposed budget is a threat to the safety and health of all Americans. Although it's not surprising that Trump went back on his promise to not cut Medicaid given all of his other lies, it's still devastating. It's especially hard to swallow when you consider some undecided voters ultimately cast their vote for Tump under the guise that the program would remain protected.
In fact, Bernie Sanders took to the Senate floor in January of this year to illustrate this exact point, according to TIME:
"Millions of people voted for him on the belief that he would keep his word. If he was sincere, then I would hope that tomorrow or maybe today he could send out a tweet and tell his Republican colleagues to stop wasting their time and all of our time. And for Mr. Trump to tell the American people that he will veto any proposal that cuts Medicare, that cuts Medicaid or that cuts Social Security."
Unfortunately, it has become increasingly clear that the president's "word" boils down to nothing at all. The only hope for a fully-funded Medicaid now lies with a GOP controlled Congress.