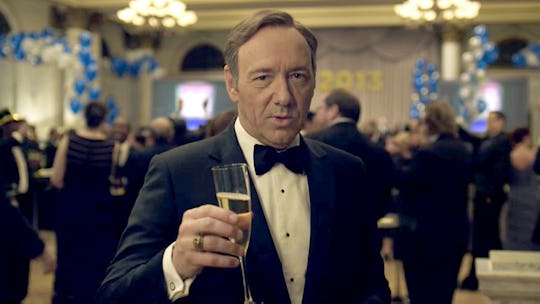 Netflix
Here's Everything Coming To Netflix In March, So You Know What To Stream & When
The weather may be warming up, but that doesn't mean people are ready to leave the comfort of their homes just yet. And that's where Netflix comes into play. There is a slew of TV shows and movies coming to Netflix in March, giving you plenty of things to do while you wait for those first signs of spring. (Or, more accurately, wade out that St. Patrick's Day hangover.)
Netflix is ending February with a bang, with it's original revival Fuller House premiering on Feb. 26. But the March options will be able to compete with the Tanner clan. In addition to classic films and series — as well as a few lesser-known options — Netflix is bringing 16 original series to the streaming service in March. Yeah, you read that right — 16. This, of course, includes two fan favorites House of Cards and Marvel's Daredevil. (Sorry Unbreakable Kimmy Schmidt fans — you have to wait till April.) And the entertainment isn't just for the adults. There is an array of kid-friendly content that the entire family can enjoy.
With 72 new titles being added in March, there's a lot to comb through. Here are my top 7 picks for streaming next month, followed by the full list of everything Netflix will be adding. Happy binging!
Good Burger
Children of the '90s rejoice! Your favorite burger-slinging duo will be available to stream come March 1. Make sure you whip up some themed-snacks to celebrate.
Robin Hood: Prince of Thieves
Staring the swoon-worthy Kevin Coster and the late Alan Rickman, Robin Hood: Prince of Thieves will be available for fans of adventure on March 1.
Scarface
Say hello to your little friend! Start March 1, you can enjoy Al Pacino is all his gangster glory.
House of Cards — Season 4
The Underwoods are back, bad and battling with each other. Season 4 of the Netflix original series will see Frank and Claire at odds, whcih could mean a major shakeup in Washington, D.C. Tune in for the drama on March 4.
Louie — Season 5
Every parent can appreciate Louis's struggle to raise two girls in a chaotic city. Get a hold of Season 5 starting March 4.
Larry Crowne
Who can resist Tom Hanks? Available March 16, Larry Crowne follows a middle-age man who's been laid off from his job and his pursuit to make his life better.
Marvel's Daredevil — Season 2
The hero of Hell's Kitchen returns to Netflix March 18. One of Netflix' most popular original series, Daredevil follows Matt Murdock, a blind man who fights injustice by day as a lawyer and by night as a cloacked sper hero.
Movies
Adult Beginners (March 1)
Ahora o Nunca (March 1)
American Pie Presents: Beta House (March 1)
American Pie Presents: The Naked Mile (March 1)
Before We Go (March 1)
Blue Mountain State: The Rise of Thadland (March 1)
El Desconocido (March 1)
Groundhog Day (March 1)
Heaven Knows What (March 1)
Hot Sugar's Cold World (March 1)
Narcopolis (March 1)
Road Trip: Beer Pong (March 1)
Robin Hood: Prince of Thieves (March 1)
Scarface (March 1)
Star Trek: The Motion Picture (March 1)
Star Trek II: The Wrath of Khan (March 1)
The Young Kieslowski (March 1)
For Grace (March 2)
Hell & Back (March 5)
Halo: The Fall of Reach (March 7)
Sin Filtro (March 7)
Hateship Loveship (March 10)
Shelter (March 12)
10,000 Saints (March 15)
4GOT10 (March 15)
The Falling (March 15)
Final Girl (March 15)
Finders Keepers (March 15)
War Pigs (March 15)
Are You Here (March 16)
Charlie St. Cloud (March 16)
Gridiron Gang (March 16)
Larry Crowne (March 16)
Promised Land (March 16)
He Never Died (March 18)
Jimmy Carr: Funny Business (March 18)
My Beautiful Broken Brain (March 18)
The Art of Organized Noize (March 22)
The Ouija Experiment 2: Theatre of Death (March 22)
The Forbidden Kingdom (March 24)
A Promise (March 24)
Bachelor Party 2: The Last Temptation (March 31)
Fright Night 2 (March 31)
Murder Rap: Inside the Biggie and Tupac Murders (March 31)
Sunshine Superman (March 31)
TV Shows
Aldnoah.Zero — Season 2 (March 1)
Fresh Meat — Series 2 (March 1)
Midsomer Murders — Series 17 (March 1)
House of Cards — Season 4 (March 4)
Louie — Season 5 (March 4)
Cuckoo — Seasons 1-2 (March 7)
The Returned — Season 1 (March 8)
Comedy Bang! Bang! — Season 4 (March 10)
Flaked — Season 1 (March 10)
Netflix Presents: The Characters — Season 1 (March 11)
Happy Valley — Season 2 (March 16)
Marvel's Daredevil — Season 2 (March 18)
Trailer Park Boys — Season 10 (March 28)
Children's Content
Frog Kingdom (March 1)
Good Burger (March 1)
Lab Rats — Season 4 (March 4)
LEGO Friends: The Power of Friendship (March 4)
LEGO: Bionicle: The Journey to One — Season 1 (March 4)
Digimon Fusion — Season 2 (March 8)
Dinotrux — Season 2 (March 11)
Popples — Season 2 (March 8)
Power Rangers Dino Charge — Season 1, Part 2 (March 15)
The Mr. Peabody and Sherman Show — Season 2 (March 18)
Pee-wee's Big Holiday (March 18)
VeggieTales in the House — Season 3 (March 25)
Yu-Gi-Oh! Bonds Beyond Time (March 31)
Yu-Gi-Oh! Zexal — Seasons 1-2 (March 31)