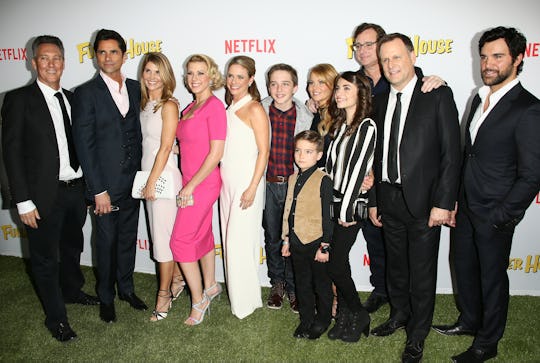 JB Lacroix/WireImage/Getty Images
Was 'Fuller House' Taped In Front Of A Live Audience? The Reboot Will Give Fans A Taste Of Nostalgia
Anticipation is building for Netflix's Fuller House, a reboot of a favorite classic that brings the Tanner family and friends — minus the Olsen twins, of course — back together again. As our collective patience dwindles, fans are clamoring for any and all information about the show. Many are left wondering about story lines and character developments and, of course, whether Fuller House was taped in front of a live audience, just like it was 20 years ago.
The answer is a resounding and fantastic yes — the show was filmed in front of a live audience at the Warner Bros. Studios in Burbank, California. This, no doubt, comes as somewhat of a relief of die-hard Full House fans, who can't help but appreciate the audience's involvement in the show itself. While the show is a Netflix original, it will have the look and feel of an 80's television sitcom; just as the media-gods intended. In fact, Fuller House cast member Candace Cameron Bure told the Huffington Post, "The [studio] audiences were going crazy" and the first episode has "exceeded all of our expectations."
For those who may not know — or those who weren't around to watch the original — Fuller House is the sequel Full House, the 1987 sitcom that followed three men raising three young girls in San Francisco, after Danny Tanner's (played by Bob Saget) wife tragically dies. The show was on the air for eight years and led to many of the cast members' subsequent fame.
Now, with Fuller House, fans will be re-introduced to the Tanner family (sans Michelle Tanner, as Mary-Kate and Ashley did not agree to star in the show). The cast and crew have been tight-lipped as to the changes any of the characters have faced and/or been through, so I guess we will just have to wait until Netflix releases all 13 episodes, to find out.
And if that doesn't get you excited enough about the long-awaited reboot, the photos Fuller House cast members have shared via social media, definitely will. In what I can only assume to be a mean, cruel form of torture, Fuller House cast mates Andrea Barber and John Stamos have given fans a sneak-peak, behind-the-scenes look at filming.
I would be shocked if Netflix didn't take the Fuller House chapter past 13 episodes, so if you're anxious to be part of Season 2, you can find live-audience tickets through TVTickets.com. ... Honestly, is it Feb. 26 yet?!