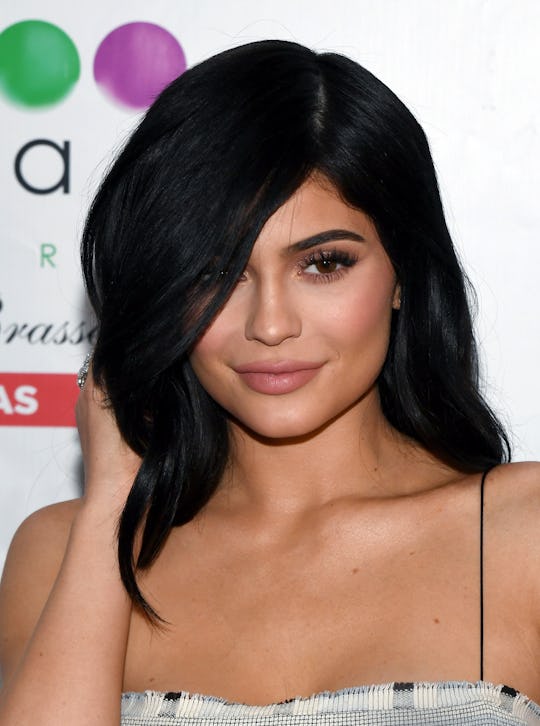 Ethan Miller/Getty Images Entertainment/Getty Images
Here's Everything Kylie Jenner Has Said About Wanting To Be A Mom
The world is going crazy over the news that Kylie Jenner is reportedly pregnant. PEOPLE has confirmed that multiple sources say the 20-year-old is expecting. So far, Kylie hasn't made a statement herself (though Romper has reached out to her comment). But of course, fans are dying to know how she might be feeling about this big news. So it's time to take a look and find everything that Kylie Jenner has said about wanting to be a mom.
Back November 2016, while Kylie was dating rapper Tyga, Hollywood Life reported that Khloe Kardashian was all for her little sis being a "young mom." A source revealed that "Khloe encouraged Kylie to not wait too long before she begins a family … While all of Kylie's sisters have mixed views about Kylie having a child with Tyga, Khloe has advised young Kylie to start a family asap!"
At the time, Kylie was 19, but reportedly Khloe thought Kylie's maturity levels were up to motherhood. "Khloe told Kylie that she is loving, caring and fortunate enough to be financially secure at a young age, all things that would make her a great sexyyoungmom," the source added. Well, if the rumors are true, looks like Kylie's going to be young mom — and there's no doubt she'll be a super sexy — and super loving — one.
It seems like being a mom is something that Kylie has known she wanted to do from a young age. Talking to Teen Vogue back in 2015, when she appeared on the cover as 17-year-old, Kylie revealed that she definitely sees daughters in her future. "When I look to the far future and decide to have kids, I need to have a million girls," she shared. "Ten years from now — in 2025 — I hope I have a kid."
It's not quire 2025 yet, but if what sources tell TMZ is true, Kylie is going to get her wish for a baby girl a lot sooner.
In January 2016, Kylie shared more about her interest in one day becoming a mom. According to Us Weekly, during an episode of Keeping Up With the Kardashians, the then 18-year-old asked Caitlin Jenner a big question: "What do you feel like is a good age to have kids?"
In that moment, her then boyfriend Tyga was sitting right next to Kylie. When Caitlin replied that 30 was a good age to aim for, Kylie said, "I feel like 30 is too late!" She also added that "every psychic said that I'm only going to have two kids."
Well, Tyga is long out of the picture, and the reported lucky guy and father of her baby is Kylie's new love, Travis Scott, 25.
At the age of 19, Kylie revealed that she already had a list of baby names picked out. "I keep a list in my phone of names I like for my future kids," she told her best friend Jordyn Woods on her app in September 2016, according to The Mirror. "But they're my secrets for now!"
Kylie touched on the subject of motherhood again a month after that. "I'm getting a lot of questions about kids. How many kids do I want? Do I want kids?" she said in a Snapchat video, when taking questions from Twitter in October 2016, according to Life and Style. "And I do want kids, but not now."
And just one month ago, Kyle was talking about wanting kids once again. "I do want kids," she told PEOPLE. "Who doesn't want kids? My dogs feel like my little kids."
It's clear that being a mom is something that Kylie has pretty much always wanted to do. And while some may wonder if 20 is "too young," for Kylie to be having a baby, um, newsflash, it's really no one's business. The important thing is that Kylie is happy, and by all accounts, that's exactly what she is.
Watch Romper's new video series, Romper's Doula Diaries:
Check out the entire Romper's Doula Diaries series and other videos on Facebook and the Bustle app across Apple TV, Roku, and Amazon Fire TV.