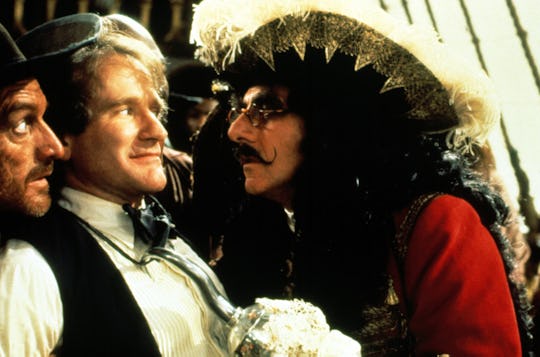 Amblin Entertainment
Here's Everything Leaving Netflix In April, So Check Your Queue Now
Netflix may be the ultimate bae, but it's been known to change things up just as you're getting comfortable. While new shows and movies are being added, there's also quite the list of TV shows and movies leaving Netflix in April.
If you're starting to panic a little, trust me, I know how you feel. When Netflix took Sesame Street out of their rotation at the beginning of the year, I seriously wondered if I should just quit my job because there was no way I was going to get any work done if my daughter couldn't binge on a few episodes. The list for April includes saying goodbye to a few family classics, so if one of your kid's favorites is on the list, I feel you. It's really hard to say goodbye to a consistent babysitter and if you mention screen time to me, I'm going to stare at you until you're uncomfortable enough to walk away.
But even with some great movies leaving, everything from romantic comedies to action flicks, there's a ton of new TV shows and movies being added. You're sure to find something else you love and something that will hold your kid's attention so you can at least eat a sandwich in peace. But let them have one more viewing of their favorites from this list of entertainment leaving Netflix in April.
101 Dalmatians
The live-action version of Disney's classic, 101 Dalmatians is full of adventure, love, and so many puppies. While you and your kids will both miss the incredible Glenn Close as a villain when the film leaves Netflix on April 1, at least you don't have to keep telling your kids, "No, you're not getting a puppy."
Flashdance
Put up your leg warmers, because Flashdance is dancing out of Netflix's queue on April 1. Time to plan a girls' night stat.
Hook
I'm really sad to see Hook go, but it doesn't mean you have to grow up yet. Take the family off to Neverland one more time before this childhood classic leaves Netflix on April 1.
Nine to Five
If you don't have #squadgoals when you're watching Nine to Five, you're doing it wrong. This classic about being overworked, underpaid, and taken advantage of will hit home with so many of us, but you've only got until April 1 to experience the ultimate girl power movie.
The Tale of Despereaux
There's nothing like a good love story, especially if it stars an adorable mouse. I'm sorry if this is one of your little one's favorites, but it's sailing out of Netflix's line-up on April 1.
Movies
2 Fast 2 Furious (April 1)
Along Came a Spider (April 1)
Along Came Polly (April 1)
Amistad (April 1)
Bad Johnson (April 1)
Bandslam (April 1)
Berkeley in the Sixties (April 1)
The Butcher's Wife (April 1)
Charlie's Angels: Full Throttle (April 1)
Craigslist Joe (April 1)
Flashdance (April 1)
Hotel Rwanda (April 1)
House of Wax (April 1)
I'll Be Home for Christmas (April 1)
The Inexplicable Universe with Neil deGrasse Tyson (April 1)
Leon: The Professional (April 1)
Nanny McPhee (April 1)
The Naked Gun 2 1/2: The Smell of Fear (April 1)
Nine to Five (April 1)
Pride & Prejudice (April 1)
Remember Me (April 1)
Rockstar (April 1)
The Rundown (April 1)
Smokin' Aces 2: Assassin's Ball (April 1)
Something New (April 1)
Start Trek: Insurrection (April 1)
Starship Troopers (April 1)
The Wedding Date (April 1)
The Whole Ten Yards (April 1)
Anchors Aweigh (April 2)
Around the World in 80 Days: Special Edition (April 2)
The Devil at 4 O'Clock (April 2)
High Society (April 2)
On the Town (April 2)
Pal Joey (April 2)
Some Came Running (April 2)
Take Me Out to the Ballgame (April 2)
Space Dogs (April 3)
The Passion of the Christ (April 6)
Let the Right One In (April 10)
A Royal Affair (April 15)
All American Christmas Carol (April 15)
Bill Cunningham New York (April 15)
New York, I Love You (April 15)
Mr. Bean's Holiday (April 16)
Lord of War (April 17)
Half Baked (April 20)
Sordid Lives (April 30)
TV Shows
Barefoot Contessa: Back to Basics Collection: Collection 1 (April 1)
Chuck's Eat the Street Collection: Collection 1 (April 1)
Dear Genevieve Collection: Collection 1 (April 1)
Eureka: Season 4.0 (April 1)
M*A*S*H: Season 1 - 11 (April 1)
Throwdown with Bobby Flay Collection: Collection 1 (April 1)
Vanilla Ice Goes Amish: Season 1 (April 1)
The Vanilla Ice Project: Season 1 - 4 (April 1)
Short Poppies: Season 1 (April 3)
Freakshow: Season 1 (April 22)
Children's Content
101 Dalmatians (April 1)
Hook (April 1)
Nanny McPhee (April 1)
The Tale of Despereaux (April 1)