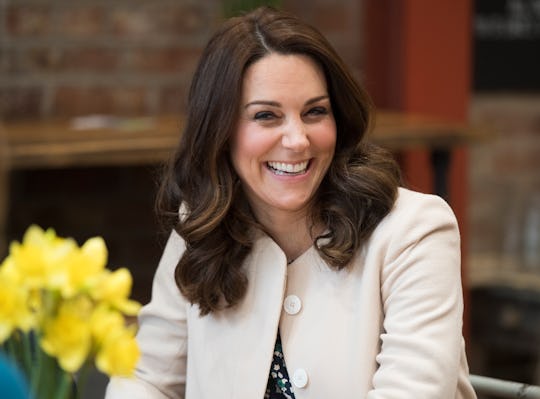 WPA Pool/Getty Images Entertainment/Getty Images
Here's Everything We Know About Kate Middleton's Prep For Baby #3
Prince William and his wife, the Duchess of Cambridge Kate Middleton, are due to welcome their third baby within the next month. You know what this means for the world, of course. There will be another perfectly cherubic, rosy-cheeked little darling walking around in cable knit sweaters and plaid shorts or skirts, just like Prince George and Princess Charlotte. As we get closer to the delivery, here's everything we know about Kate Middleton's prep for baby number three.
Kate and William are old hats at parenting by now, of course, and are presumably feeling well prepared to welcome their third baby. After all, they've been doing a splendid job on the first two, 4-year-old Prince George and 2-year-old Princess Charlotte. While welcoming a third child into the family might not be as frightening as the first (when you don't know what you're really getting into) or the second (when you know what you're getting onto and don't know how you'll manage with double the children), it can still come with its own set of challenges. And Us Weekly reports that Kate and William are planning things down to the "tiniest detail" in preparation for their third baby. From having a baby team at the ready, to security detail at the hospital, they're leaving nothing to chance.
General Hospital
Middleton is planning to give birth at the spa-like Lindo Wing at London's St. Mary's Hospital, a famous maternity ward with suites that can cost patients more than $9,650 per day. A very special maternity suite has been on lock down since early-March for security sweeps, as an insider told Us Weekly; the same suite where the Duchess gave birth to Prince George in 2013 and Princess Charlotte in 2017. Princess Diana also welcomed both Prince William and Prince Harry here, so there's obviously loads of sentimental attachment to the hospital, even as the security team performs regular sweeps of the area, according to Us Weekly.
Security does regular sweeps of the room, then it's resealed each time with tamper-proof tape. It's a high-security operation. Even the crawl space above the room is checked regularly.
St. Mary's Hospital in London is clearly preparing to look good for its upcoming closeup as well; there's a fresh coat of paint on the railing outside the hospital.
#BabySquad
Kate Middleton isn't just making sure the hospital is ready for the new baby; she's getting her baby squad in place as well. She has reportedly secured a very important babysitter to be on red alert once she goes into labor; her mom, Carole Middleton. The grandmother has reportedly been visiting Kensington Palace regularly, and is expected to hightail it from her home in Buckleberry once the action happens. A source told Us Weekly:
She's visited Kensington Palace a number of times over the past few weeks. Alongside William, she's been so supportive and helpful.
Back-Up Plans
Of course the wish is that everything goes smoothly for the royal couple. Hopefully, Middleton will give birth on April 23 to a baby of one sex or the other (they decided not to tell us the baby's sex this time around which is perfectly fine I guess), the sun will be shining and Meghan Markle will be her midwife or something. Because that, my friends, would be amazing. However, if something happens to go awry, the couple is apparently prepared with several contingency plans. Kensington Palace has even established a "baby team" to cover all details, like media coverage, security, and hospital arrangements. The hospital won't be informed of her arrival until five minutes before she gets there, according to Us Weekly, and the Duchess hopes to get the baby home as soon as possible.
Whatever happens in the posh delivery room, here's hoping all goes well.