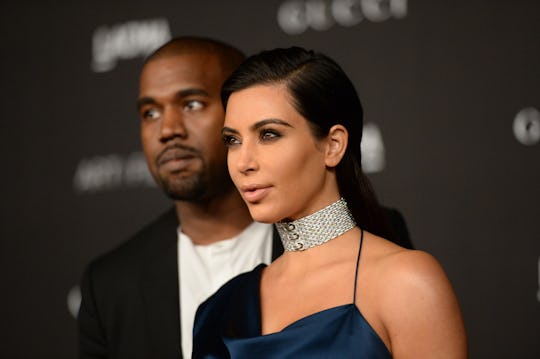 Jason Merritt/Getty Images Entertainment/Getty Images
Here's Everything We Know About Kim K's Surrogate Mother
In order to add another baby into their growing brood — blessing the world in the process — Kim Kardashian and Kanye West have hired a surrogate mother to carry their third child, who is reportedly several months along. While little information was released when news first broke, sources close to the couple have reportedly shared more details about the woman who is carrying their new baby over the past few months. And, at this point, there are enough details out there to get a pretty good idea about who they hired. So, here is everything we know about Kardashain's surrogate and the famous pair's growing baby.
Citing unnamed sources with insider information on the pregnancy, TMZ reported some of the specifics about the woman they hired to carry the baby, as well as her family and background. The surrogate mom is reportedly an African-American woman in her 20s and is reportedly married with two young boys of her own, according to TMZ.
The outlet reported that the surrogate has been married to her spouse for five years, which the source reportedly said is a "solid" marriage." TMZ also shared that the surrogate is reportedly a college graduate and a registered democrat.
The sources also told TMZ that the surrogate is reportedly in excellent shape and that, combined with her experience giving birth to her two sons, should make for a "smooth" pregnancy while carrying Kardashian and West's baby. With the pregnancy reportedly halfway along, it was announced on Wednesday that the power couple is expecting a baby girl to be born in late January. (Kardashian's publicist had no comment regarding the baby's gender or due date at the time of publication.)
In an earlier story about the surrogacy published in June, TMZ reported that Kardashian's surrogate was being paid $45,000 over the course of 10 months and had a strict set of guidelines for her health and wellness, as well as the baby's. For example, she reportedly has to avoid raw fish and cat litter boxes, along with other general pregnancy guidelines related to drinking, smoking, and caffeine. Earlier this summer, a source reportedly told TMZ:
They want everything to be perfect and for the baby to be extremely healthy. They don't want any complications and Kim is providing an ideal eating regimen and diet so everyone knows what the baby is consuming before it's born.
Kardashian made the decision to go the surrogate route for her third child after experiencing a pregnancy complication in her first pregnancy with her daughter, North, called placenta accreta — which, according to Parents, is "when the placenta grows so deeply into the uterus that it cannot be separated after delivery." Kardashian told C Magazine that after that, she struggled to conceive her second baby with West:
I had so many complications. I had this condition called placenta accreta. There were a couple little operations to fix all that so that created a little hole in my uterus, which I think made it really tough to get pregnant again.
While she did go on to give birth to her son, Saint, she has been very vocal about the fact that she had a high-risk pregnancy and giving birth again could prove fatal for her.
Despite these complications, a source reportedly told People that 40-year-old West "would want a family of five or six" with Kardashian:
After both her pregnancy experiences — which no secret, weren't great for her — she was content with two. But even after having Saint and knowing everything, Kanye was already talking about having more kids.
Given the desire to continue growing their family and Kardashian's prior pregnancy difficulties, using a surrogate seems to be the logical choice. For now, as TMZ's sources suggest regarding the surrogate, Kardashian and West's third bundle of joy seems to be in very good hands.
Check out Romper's new video series, Romper's Doula Diaries: