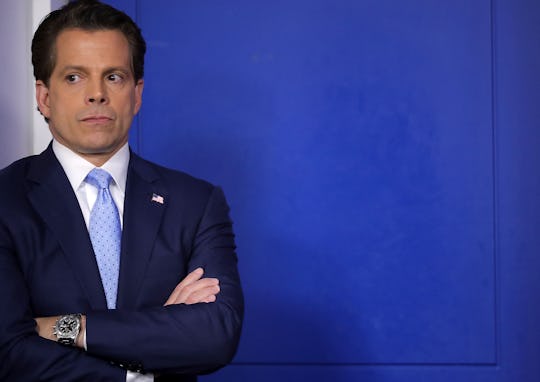 Chip Somodevilla/Getty Images News/Getty Images
Here's How Anthony Scaramucci Reportedly Reacted To His Son's Birth
Since taking on the role of White House communications director little more than a week ago, Anthony Scaramucci has earned a national reputation as brash and profane, and established himself as a tabloid fixture, too. During his first week on the job, the self-styled "Mooch" catapulted into prominence largely atypical of presidential admin officials with his public, expletive-ridden tirade against Trump's now-former chief of staff, Reince Priebus. And he was acting with about as much decorum in his personal life: If you can believe it, here's how Anthony Scaramucci reportedly reacted to his child's birth Monday.
Once a Wall Street executive who founded his own investment firm, Scaramucci really put his character on display when he called The New Yorker's Ryan Lizza to deliver a shocking, totally NSFW indictment of Priebus, crass depiction of President Donald Trump's chief strategist Stephen Bannon, and more. Before that drama even played out, his wife, Deidre (Ball) Scaramucci had reportedly filed for divorce July 6 — when she was nine months pregnant with the couple's second child, The New York Post's Page Six reported.
Apparently, there was enough animosity between the two that, as an unnamed "source close to the situation" told the tabloid that Scaramucci responded with a text when he heard the news that his son, James, had been born. "Congratulations," he reportedly wrote. "I'll pray for our child."
Romper has reached out to the Scaramucci's office for comment on the account and is awaiting a response.
According to Page Six, Scaramucci was with the president while he addressed thousands of young boy scouts at the Boy Scouts of America's National Jamboree in West Virginia at the same time his wife was giving birth in New York City. It was a speech so widely decried as inappropriate that Chief Scout Executive Michael Surbaugh ultimately publicly apologized for the president's words.
Scaramucci and Deidre have been married since 2014 and share another son, 3-year-old Nicholas. They began dating in 2011, when she began working for his firm, SkyBridge Capital, as an assistant. Scaramucci also has three other, older children from a previous marriage: Alexander, 24, Amelia, 21, and Anthony Jr., 18.
Page Six reported that little James was born about two weeks early — one source described the delivery as "sudden" — and was admitted to the neonatal intensive care unit Thursday. Scaramucci reportedly visited him for the first time on Friday night.
Deidre's lawyer, Jill Stone, declined to share a reason for the couple's split in an interview with The New York Daily News. "It's a private matter," she said. "She's focusing on the children. She really doesn't have a comment at this time."
Similarly, Scaramucci apparently didn't have much to say when his soon-to-be-ex-wife gave birth, which speaks volumes. If nothing else, it's a tragic situation for two young children, who one would hope will somehow make it through this controversy without feeling too strained.