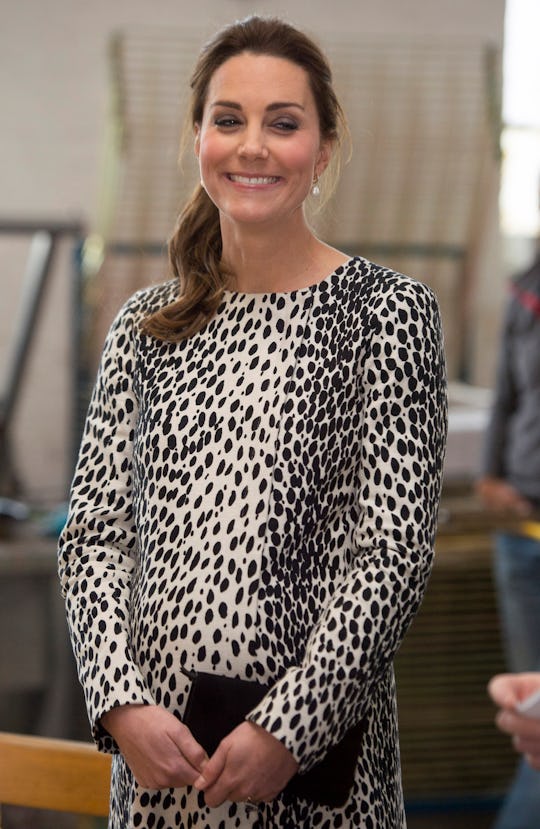 WPA Pool/Getty Images Entertainment/Getty Images
Here's How Hyperemesis Gravidarum Might Affect Kate Middleton Postpartum
Hyperemesis gravidarum is often referred to as simply a severe form of morning sickness, but for moms-to-be suffering with symptoms, that can be quite the understatement. Between nausea, frequent vomiting, extreme fatigue, food aversions, dehydration, depression, and more, plus everything else that can come with pregnancy, those dealing with hyperemesis gravidarum have a lot to handle, and may wonder how hyperemesis gravidarum will affect them postpartum. The Duchess of Cambridge, Kate Middleton, had hyperemesis gravidarum while pregnant with each of her three children. Middleton just delivered her third baby. Now that she's no longer pregnant, can she expect to continue to be nauseated all the time, or will the symptoms clear up relatively quickly?
Though it seems that, for some women, the symptoms go away as soon as they deliver their baby (and the placenta), as contributor Amanda DeGrace relayed in an essay for HuffPost about her experience with the condition, for other women, symptoms can linger long past that point. The Oregon-based HER Foundation (HER stands for Hyperemesis Education and Research) noted on its website that, for some hyperemesis gravidarum sufferers, recovery can last anywhere from a couple of months to up to about two years, with the general rule of thumb being one or two months of recovery for every month you were sick. So if Middleton was sick throughout the entirety of her pregnancy it could potentially take over a year before she's feeling fully recovered.
Additionally, while not everyone who experiences hyperemesis gravidarum during pregnancy deals with a long recovery or related conditions, the HER Foundation noted that it's important to keep an eye out for things like postpartum depression, thyroid disease, and post traumatic stress disorder in women who had hyperemesis gravidarum because both the condition and recovery can be difficult.
Ensuring that you get the care you need postpartum, going to doctors, dentists (vomiting is hard on your teeth), and therapists if need be, often enough to make sure that you're recovering well is important, but can sometimes be difficult while caring for a baby, especially if you have older kids, your partner has to go to work, and you don't have a ton of help. But because you won't necessarily experience immediate relief from your symptoms and could also experience those related conditions that the HER Foundation wants people to watch out for, it's super important.
Because Middleton has the platform she does as a member of the royal family, people are talking about hyperemesis gravidarum a lot more. Everyday Health reported that it's unclear what, exactly, causes hyperemesis gravidarum, but that it can be linked to some extremely serious complications. Additionally, the HER Foundation noted that hyperemesis gravidarum symptoms can let up around 20 to 21 weeks in some people, but that for others it'll continue throughout their entire pregnancy.
Middleton and her husband Prince William, Duke of Cambridge, have two older children, Prince George of Cambridge and Princess Charlotte of Cambridge. Middleton gave birth to Prince George in 2013 and to Princess Charlotte in 2015. The website for Today reported that Prince William told Iris Orrell, who too experienced hyperemesis gravidarum while pregnant, that his wife attempted to settle her stomach with ginger cookies, though ginger, a notorious stomach-soother, did not do much to help ease her symptoms.
Now that she's safely delivered baby number three, here's hoping the Duchess's symptoms will ease and she'll be able to recover quickly and spend time with her newest little one. Though there's no definitive timeline for when her symptoms will go away or how long it will take her to fully recover, there's little doubt that Middleton and her loved ones hope it happens sooner rather than later.
Check out Romper's new video series, Bearing The Motherload, where disagreeing parents from different sides of an issue sit down with a mediator and talk about how to support (and not judge) each other's parenting perspectives. New episodes air Mondays on Facebook.