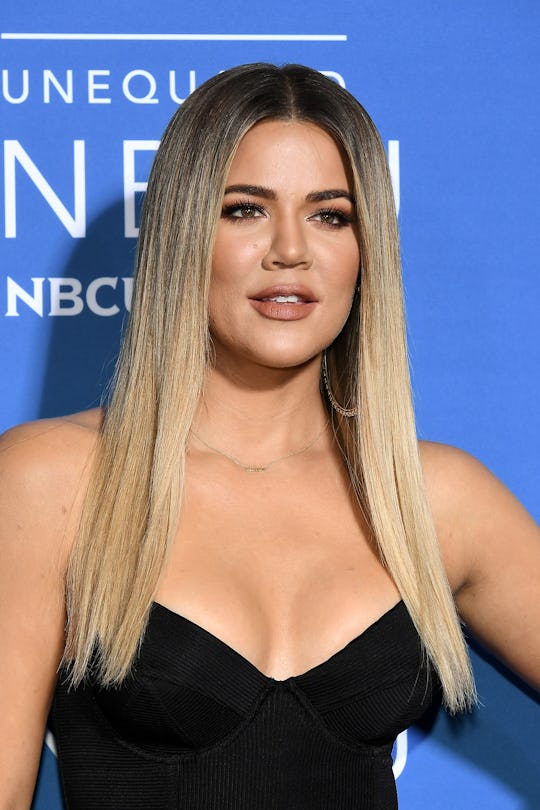 Dia Dipasupil/Getty Images Entertainment/Getty Images
Here's How Khloé Kardashian Is "Nesting" Before Her Baby Girl Arrives
Khloé Kardashian is at the very best stage of pregnancy, in this girl's opinion. The Good American designer is settled in Cleveland with her boyfriend, Cleveland Cavaliers player Tristan Thompson, counting down the final days before she gives birth to her daughter. Which means there's nothing a girl can do but wait. And nest, which is just about the best thing ever. Especially if you're a Kardashian; as ever, that family knows how to take everything to the next level. And here's how Khloé Kardashian is nesting before her baby girl arrives, and yes, it does sound amazing.
Now that Khloé has stopped working and is hanging out in her new hometown of Cleveland waiting for her baby to arrive, it seems like she's reveling in the peace and quiet. A source told People that Khloé loves her life in Cleveland, which is considerably more laid-back than her life in Los Angeles with the paparazzi and a huge family of arguably some of the most famous women in the world competing for her time. In Cleveland, Khloé can apparently go out and not worry about being photographed or bothered, although it doesn't sound like she's going out much these days.
Nope, these days she's all about feathering her nest. And catching up on some solid reality TV watching.
Khloé took to her website on Wednesday to share some details about how she's spending her final days before her daughter is expected to arrive later this month, now that she's finished her baby's nursery. According to People, she wrote:
It's the final stretch of my pregnancy. Day by day, it gets harder and I get more impatient — and not to mention more uncomfortable. So, while we wait, I have to stay busy. I'm not the type to lay around all day and be lazy (when I do, I get a little crazy!). I've already finished the nursery, so I'm happy to have that checked off the list.
Unfortunately, Khloé hasn't shared any photos of the fabled nursery with her social media followers, but considering her expertise when it comes to decorating, I think we can all safely assume it's amazing. This is Khloé's first baby and Tristan's second; he already has a 1-year-old son named Prince with ex-girlfriend Jordyn Craig.
The soon-to-be parents apparently have a pretty sweet little nesting schedule down pat, including daily walks and marathon-watching television, as she wrote on her website, according to People:
In Cleveland, we have a very similar routine every day, which I actually really like and adapt to easily. Every day, I go for a 45-minute walk (I'd actually call it more of a stroll, LOL). Tristan and I have also been watching Billions. It's such an incredible show — we LOVE it! We just finished season 1. It's such a good show to binge-watch.
Billions isn't the only show she's watching, apparently. The Revenge Body host took to Twitter to admit she was catching up on some reality TV, more specifically Real Housewives Of New York, which she called, "Nesting at its finest."
This isn't the first time Khloé has given a shout out to RHONY; when she initially started out on a weight loss journey during her divorce with former NBA player Lamar Odom, she told Health magazine the show provided a great distraction:
So I joined Equinox, and I would go there and put my headphones on and get on the elliptical or the stairs, and no one would bother me or ask me questions ... I would watch The Real Housewives or something mindless, and I felt like all the stress I was under, all the paparazzi -- I blocked out all that noise.
I hope Khloé is enjoying these precious nesting days. It's a golden time when you get to rest and think and watch whatever you want on repeat without a single person judging you. On account of you're having a baby. It's a lot harder to pull off any other time, trust me I keep trying.
Check out Romper's new video series, Bearing The Motherload, where disagreeing parents from different sides of an issue sit down with a mediator and talk about how to support (and not judge) each other's parenting perspectives. New episodes air Mondays on Facebook.