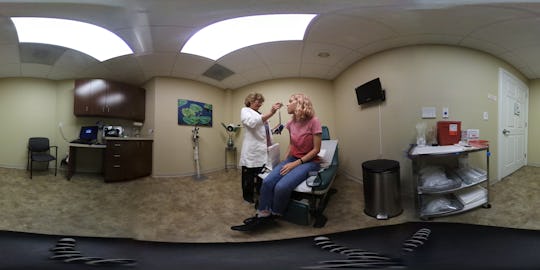 Joe Raedle/Getty Images News/Getty Images
BCRA Would Cause Thousands Of Unintended Pregnancies
The Congressional Budget Office released its cost estimate report on the Better Care Reconciliation Act on Monday, and so far, it seems like the Senate's health care bill does not largely improve upon the House's version — especially when it comes to women's health care. Thanks to the bill's double-pronged attack on Medicaid and Planned Parenthood, the number of unintended pregnancies that would result from the BCRA (if passed in the Senate) would be in the thousands.
The CBO's report estimated that an additional 22 million people would be left uninsured in the United States in under a decade if the country switched to the BCRA from the Affordable Care Act, leaving a total of 49 million Americans without health care by 2026. The BCRA would also keep Medicaid dollars from going towards Planned Parenthood for at least a full year, and roll back federal funding of Medicaid from 95 percent (where it currently sits) to around just 50 percent. On top of that, states would be allowed to opt out of essential health benefits under the BCRA, meaning mandated coverage for maternity care, birth control, and other family planning services could get the axe in several states.
The result of this combination, according to the CBO, would be thousands of additional unintended pregnancies. For women in low-income areas who do not have access to other facilities, Planned Parenthood could be their only source of birth control and family planning — and the CBO estimates that 15 percent of these women would lose access to health care under the BCRA.
If women lost the ability to pay for services at Planned Parenthood using Medicaid, the number of unintended pregnancies could shoot up significantly. In fact, the number of additional births that Medicaid would have to cover would cost the program an extra $79 million in the next decade, according to the CBO — or around 35 percent of the savings the BCRA would intend to see by cutting back on Medicaid.
"It's going to make it much harder to avoid a pregnancy that you don't want, it's going to make it harder to [end] an unwanted pregnancy, and it's going to make it harder to take care of that baby when you do have it," Andrea Flynn, a health policy fellow at the Roosevelt Institute think tank, told TIME. "We can't expect that women will be able to be economically secure if they can't access health care and take care of themselves and their families."
According to Vox, 75 percent of public dollars spent on family planning are Medicaid dollars, and 80 percent of Planned Parenthood's 2.4 million annual visitors go there for help in preventing an unplanned pregnancy. That's a lot of people who could be left in the lurch.
While a baby is a great thing when it's wanted, increasing the number of unplanned pregnancies can derail women's lives. Limiting women's access to family planning and health care pushes women's rights back across the country. Last year, the rate of unplanned pregnancies in the United States fell to a 30-year low. If you'd like to keep it that way, share your concerns with your senator as soon as possible.